Congress rivals have put factionalism aside for now. The party is betting on a series of well-received welfare schemes to return to power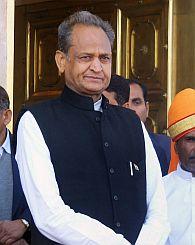 Earlier this year, many political pandits had begun writing off the re-election chances of Rajasthan Chief Minister Ashok Gehlot.
The Bharatiya Janata Party under Vasundhara Raje was reportedly headed for massive gains in the coming Assembly polls. Straddled with anti-incumbency, the Gehlot government was also hit with rampant factionalism within the state party unit.
However, the tide appears to be turning. What seems to have made a difference is arch rivals Gehlot and former state party head, C P Joshi, apparently having called a truce. Those not aligned to the two camps, such as seniors Sis Ram Ola and Girija Vyas, have also been accommodated in the party's poll campaign.
A Congress senior says, "It's no secret that Joshi and Gehlot don't see eye to eye and there have been public spats. But ever since Rahul Gandhi took charge, he made it clear that everyone will have to fight unitedly." He called the state unit's top brass to Delhi, disclosed the source, and read out the riot act to them.
The appointment of Gurudas Kamat as general secretary in charge of the state appears to have helped. Kamat has been making a point of inviting both faction leaders to Pradesh Congress Committee brainstorming meetings.
The Rajasthan Congress has a bevy of seniors, followed by an active younger generation, such as Sachin Pilot and Bhanwar Jitender Singh. Poll campaigns so far have generally left out one or the other section but this time all seniors have been drafted into the crucial process of candidate selection.
Vyas, the Lok Sabha member from Chittorgarh, a confidant of Congress president Sonia Gandhi, has been entrusted with the task of consolidating the Brahmin votes, as well as the votes of women not just in Rajasthan but in the Malwa region of neighbouring Madhya Pradesh as well. The Gehlot government has had a bad record of ministers involved in sex scandals and a lot needs to be done (Vyas was former National Commission of Women chief) to restore the confidence of women voters in the party.
Young guns like Jitender Singh and Pilot, considered close to Rahul Gandhi, have been charged with consolidating the votes in their constituency areas of Alwar and Ajmer. A spate of communal riots in the state has left the Congress on a sticky wicket with the Muslim vote.
Apart from rival camps keeping their disputes aside, Gehlot's prospects seem to have improved after the bevy of freebies unleashed in the run up to the polls. His free medicine and senior citizen pension schemes are reported to have been a runaway success. Whether these steps and a united Congress unit can help Gehlot reverse the trend in Rajasthan of the opposition winning at the hustings will only be known on December 8, counting day.