Rajasthan has family members pitted against each other this election, reports Shahnawaz Akhtar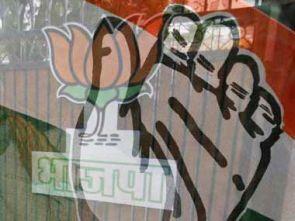 If you thought elections are all about political rivalries then family background of candidates in the Rajasthan assembly polls will spring a big surprise.

An increasing number of electoral contestants are opting to try their luck to bag a seat even at the cost of being pitted against their family members and relatives, which in a way is adding on the taste of the on-going elections.

Take the case of Kumbhalgarh's assembly constituency where Dhivraj Singh, a Bahujan Samajwadi Party candidate, will be seen taking on his son Narendra Singh, who is contesting as an independent candidate.

When asked by rediff.com about how he felt about his son contesting against him, Dhivraj posed this question, "You tell me, will you be able to stop anybody from fighting election? India is independent. So anybody can fight. My son can fight, and if my wife thinks, she can also contest."
But when asked who his wife was supporting, he said: "She is supporting me only."

The BSP candidate also claims that he is 110 per cent confident of winning his seat. 27-year-old Narendra refused to comment on the issue.
At the Bikaner West seat, BD Kalla (Congress) is fighting a tough battle against his brother-in-law Gopal Krishan Joshi (BJP). However, such contests are making politicians not so caustic during their speeches. As witnessed in the case of the bother-in-laws, the duo has been seen talking about the ideologies and work of their political party.

In the 2008 assembly polls, the BJP gave a ticket to Dharampal Gurjar from Khetdi assembly segment. But this time they chose his cousin Dataram Gurjar as their candidate. Dharampal has rebelled against the party and is contesting independently.
If in Khetdi two cousins are taking on each other, then what about the two brothers who contesting from different parties. With Congress gave a ticket to Vinod Kumar Choudhary from Hanumangarh, the BJP is fielding his brother Krishna Kadwa Choudhary from Sangaria constituency; the two parties have managed to break away the ideologies of blood brothers.
A similar fight is on in Sikar district's Lachmangarh and Fatehpur constituencies. While Subhash Maharia is contesting from Lachmangarh on BJP ticket, his brother Nand Kishore Maharia is fighting independently on Fatehpur seat.
The BJP has also fielded two cousins from two different seats -- Hiralal Nagar is contesting from Sangod and Nagendra Nagar from Khanpur.