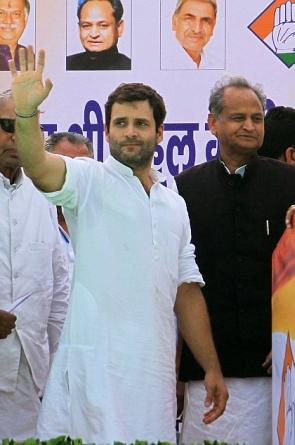 Ashok Gehlot may have the image of a politician with his ears to the ground but his populist policies and programmes have not yielded dividends in the elections in Rajasthan where the ruling Congress suffered a massive defeat.
Gehlot's leadership style is said to have turned the Jat community, the most populous caste in the state, against it.
He became the state's chief minister for the first time after the party's victory in 1998 due his proximity to the Gandhi family.
It was largely believed that formidable Jat leader Parasram Maderna would be the CM in case of the Congress's victory but Gehlot pipped him to the coveted post.
Lady luck smiled on him again in 2008 when the then state Congress president CP Joshi lost his seat by only one vote.
Joshi is seen as Rahul Gandhi's hand-picked leader in the state and was the campaign committee president in these elections. Party sources say the high command may re-jig the state leadership but it will be difficult to ignore Gehlot, who comes from an OBC community and is seen as a 'clean' politician.
Gehlot is neither a commanding orator nor does he exude the charm of his principal rival Vasundhara Raje of the Bharatiya Janata Party, but he is a skillful politician who has built on his humble origin and backward caste lineage to project himself as the leader of the "aam aadmi".
He was admired for his administrative acumen and had launched a slew of populist schemes to prepare his party for its bid to retain power. But the humiliating defeat is bound to bring his leadership under the scanner.
Image: Ashok Gehlot with Rahul Gandhi at a poll rally in Rajasthan ' Photograph: Chandra Mohan Aloria