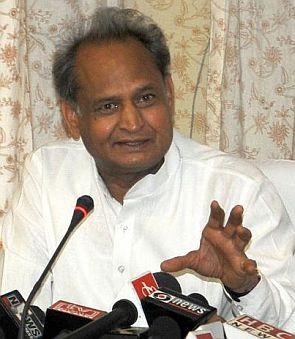 An "undercurrent" seems to have worked against Congress in Rajasthan, Chief Minister Ashok Gehlot conceded on Sunday, saying though the welfare schemes of his government were good the opposition had managed to create an "incorrect" impression in the minds of the voter.
"If there is an undercurrent, there is no counter to it. I feel as the results are coming, that the public has voted on the basis of an undercurrent," Gehlot told reporters as election result trends showed his party losing power.
Gehlot said that his party had provided good governance and also benefitted the people through its schemes.

"Whether you talk about inflation or the false charges that were levelled, in Rajasthan BJP could never dare to compare its rule with ours. We tried that development should be the issue in Rajasthan. Our campaign focussed on which government had done what," he said.
He added that his party was unsuccessful in making these the election issues and the opposition levelled false accusations but did not talk of development.
Gehlot said that the schemes implemented by his government were so good that officials from other states were visiting Rajasthan to study them.
"They created a false impression and people felt that all the schemes had only been put into place at the election time. But you are witness, what we have done in the past years," Gehlot said. He further said that implemention of a schemes was a time consuming process.
He said BJP state President Vasundhara Raje got votes in the name of Narendra Modi, BJP's PM candidate.
"She (Raje) sought votes in the name of NaMo (Modi) and I consider that it was not her victory in Rajasthan polls", he said.