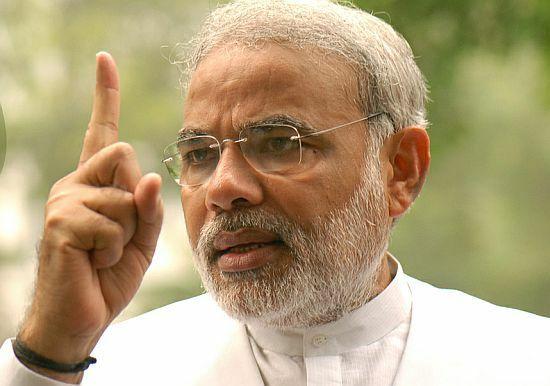 Upping the ante against the Congress, Gujarat Chief Minister Narendra Modi on Tuesday accused it of pursuing a "divide and rule" policy by fanning tensions between Hindus and Muslims.
"Congress has a divisive mentality. It only works on a rule to divide a brother from brother, raise a wall of divide", Modi said at a public meeting in Sawai Madhopur in support of four Bharatiya Janata Party candidates including erstwhile Jaipur royal family scion Diya Kumari.
"There is a need to identify the character, culture, traditions, and thoughts of Congress now....it works on divisive mentality...they never think of uniting people...they only know how to break... this is there style," he said.
"The Congress creates differences between north and south, tensions between Hindu and Muslims...it all proves that it has all along been indulging in vote bank politics," he said.
Modi, who also addressed rallies in Alwar and Bandikui, poked fun at Rahul Gandhi, saying poor attendance at the Congress leader's rally in Delhi on Sunday had forced an embarrassed Chief Minister Sheila Dikshit to plead with people not to leave the venue.
"There are rallies where people are told 'stop, don't go; stop, don't go'. And there are rallies where I have to apologise to people because they could not see me" because of huge turnouts, he said in Alwar in the run-up to the December 1 assembly elections in Rajasthan.
The BJP's prime ministerial candidate was apparently referring to Dikshit's appeal to sections of the crowd seen leaving the venue to wait till Gandhi's speech got over at the November 17 rally.
At another rally in Bandikui, Modi accused the Congress-led government of not taking effective steps to control inflation to bring relief to the common man reeling under rising prices.
"Look at the arrogance of the Congress leaders, despite high inflation they are not bothered about improving the situation," he said.
On the issue of corruption, Modi said that the United Progressive Alliance government has allegedly indulged in scams everywhere from land to water and sky.
On black money, he said that the UPA was protecting the corrupt and pressed for a law to ensure that government is aware of details of bank accounts registered in the country and abroad.
Taking a potshot at Rahul Gandhi, Modi said the Congress vice-president would never realise what poverty is because he has never experienced it himself.
"Their (Congress') Shehzada says that poverty is nothing but a state of mind. One who has not seen poverty cannot understand what poverty is," he alleged.
The BJP leader also alleged that the Congress believes in "Ghartantra" (dynastic rule) instead of "Gantantra" implying democratic rule, and it should go for the sake of development and growth of the country.
On the steep rise of onion prices, Modi said on the day when Sachin Tendulkar was batting in his last Test at the Wankhede, people were talking whether the Master Blaster or onion would first hit a century.
Citing critical judicial observations on the functioning of the Congress-led Rajasthan government, Modi it has been "sleeping for 55 months and has woken up in the last five months".
"Is government just a tool for winning elections," he asked?
"Chief minister Ashok Gehlotji claims that Rajasthan is the number one state. I am here to support his claim. It is number one in atrocities against Scheduled Tribes, poor drinking water facility and for having the maximum number of ministers in jail on criminal charges," he said sarcastically.
Modi made light of Gehlot's criticism of his developmental claims about Gujarat, saying it is recognised in India and abroad and he did not need Rajasthan CM's certificate for that.
"The geography of Rajasthan and Gujarat is almost similar. I have laid long pipelines to make water available till the Pakistan border... These pipes are so big that Gehlotji and his family can travel in them in a Maruti car," he said while underlining the unavailability of quality water in large parts of the state.