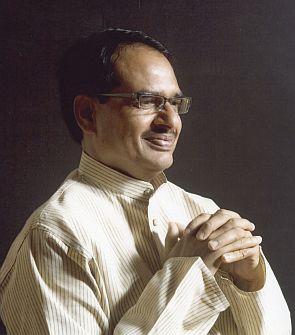 Buoyed by a hat-trick win in the assembly polls, Madhya Pradesh Chief Minister Shivraj Singh Chouhan on Sunday vowed to bag the maximum number of seats from his state for the Bharatiya Janata Party in the next Lok Sabha elections.
A humble Singh gave credit for his third consecutive victory in the state to the BJP's organisational set-up and workers, saying, "Had anyone else also been there in my place, the BJP would have won."
He also hit out the Congress-led United Progressive Alliance government, accusing it of "discrimination with Madhya Pradesh" and noted that neither the people in Delhi nor in Madhya Pradesh are ready to accept a Congress government.
"And that is why our effort will be that when we fight the next Lok Sabha elections under the leadership of Narendra Modi, it should be Madhya Pradesh which contributes the maximum number seats among all states to form a government at the Centre.
"We will not spare any effort to achieve it. We will work to the maximum to achieve this," Chouhan maintained, adding that he was saying this with regard to the BJP-ruled states.
The chief minister, who was the mascot in the BJP's campaign in the state, said, "I express my gratitude to the party."
He said, "This is the BJP, which is getting a big work done by a small worker...Shivraj is an ordinary worker. The miracle is of the organisation. Had there been any other worker in place of Shivraj, even then the BJP would have won."
Chouhan described the result as a "victory of the people".
He congratulated all senior BJP leaders including Modi for the party's victory in MP. The BJP's prime ministerial candidate Modi had addressed a number of rallies in the state, particularly in the last leg of the campaigning.
Despite anti-incumbency against a number of its sitting MLAs, the number of seats won by the BJP appears set to increase by around 10 this time from the 143 it had won in the last assembly election.
Asserting that the BJP will form the next government at the Centre in 2014, Chouhan said, "There has been a lot of discrimination with Madhya Pradesh. We would have been much ahead had there been no discrimination against us."
Calling his victory a result of the "people's love and blessing", he said he would spare no effort for the development of the state.
"This is a victory of the people of the state, the BJP's ideology and the party's organisational set-up," he said, and termed as "lucky" BJP leader Ananth Kumar, the party's general secretary in-charge for the state.
The chief minister said it was also a victory of the development works carried out by the state government, which resulted in Madhya Pradesh being counted among the developing states of the country as against the BIMARU ones.