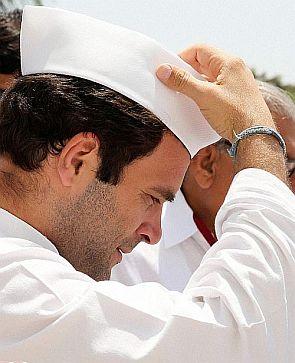 Do not blame Rahul Gandhi for the Congress's reverses in the assembly polls, Union minister Jayanthi Natarajan suggested on Sunday, maintaining that it was a "collective failure" and the party will introspect.
"The Congress is not a one-man show… It is a collective defeat and collective failure," the Congress leader said, dismissing suggestions that the Congress vice president was to be blamed for the poor show in the state elections.
"We will introspect on our losses, we will see where we have gone wrong and I am very sure as happened in 1998-99 when we won state elections and lost the Lok Sabha...as happened in 2003 when the BJP actually won the assembly polls and lost the Lok Sabha," she said.
Natarajan's comments came as the BJP was heading for landslide victory in Madhya Pradesh and Rajasthan, while wresting power in Delhi.
A thriller seemed to on the cards in Chhattisgarh with the BJP and Congress going neck to neck for long, before the former marched ahead.
Acknowledging that the performance of the Aam Aadmi Party in the Delhi polls has "surprised" his party, Union minister Sachin Pilot felt the results could have been a "knee-jerk reaction" to the incidents that has happened in the city during the past one year.
The Congress, however, needs to hold on to its rank and understand the reasons for the loss, he said.
"All is not over, we have six months for (Lok Sabha) elections. This is not the end. This is a semi-final election. This is a big setback for us in Delhi and Rajasthan. This is not a full stop in our story," he said.