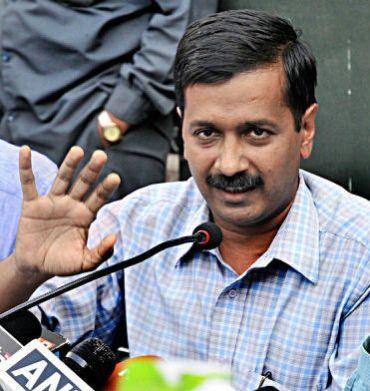 Aam Aadmi Party chief Arvind Kejriwal has hinted that the decision on forming the new government in Delhi would be taken by Monday morning.
"We will make the declaration on Monday only after we get the opinion of the people," Kejriwal told media persons in New Delhi.
"This is happening for the first time in this country that people are being asked about their opinions about the formation of government. Earlier, the public was asked to go home as soon as the voting was done. Afterwards the leader would make deals inside their offices. But this time, we have indulged the public and have asked about their opinions," he said.

"Congress is a shrewd party and if we form a government, then it will not be able to do any mischief for the next six months. If we form a government, then we will and fulfill all promises made in manifesto. We will pass Lokpal also if we come to power," Kejriwal said.
AAP leader Manish Sisodia said that his party will not form the government to praise the Bharatiya Janata Party or the Congress and added that they will work find solutions to all issues including corruption.
"The trends are still coming but largely the people are in favour that the AAP should form a government in Delhi. But there are still some meetings which will be held," said Sisodia.
Sisodia further asserted that if the same trend were followed, then the AAP would not shy away from its responsibility to form the government.
"We will find solutions to the issues, which we have raised in our manifesto,"
"We did not ask for the support of the BJP and the Congress. We were ready to sit in Opposition. But it was them, who offered their support to us. They wrote a letter of support to the Lieutenant Governor. This does not mean that we will start praising them," Sisodia said.
"We will form the government for issues, not for praising BJP or Congress. We will form the government to work for the people and, to stop corruption," he added.
The AAP on Tuesday said it will take the views of the people of the city till Sunday, and ask them for their reactions to forming a government with the Congress Party.
Addressing media persons, Kejriwal said that being a people's party, they would carry out a referendum among the people of the city, and decide what to do next.
"We have written a letter for Delhiites now. 25 lakh copies will be made and distributed across the city to seek the people"s feedback. People can phone in, send a text message, or leave a message on the AAP Facebook page," he added.