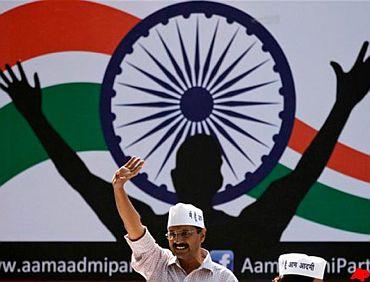 The Aam Aadmi Party has dropped hints that it could form a government in Delhi with Congress support.

AAP leader Manish Sisodia has said that there were indications that people of Delhi wanted the party to form the government but any final decision will be taken only after the result of referendum comes.
Sisodia, who won from Patparganj seat, and few other party leaders have been holding a series of public meetings to get the perception of people on whether AAP should form a government with the support of Congress.
"There are indications that people want AAP to form the government, but the final decision will be take only after the result of referendum is out by Monday morning," he said

The Congress, after being routed in the Delhi assembly polls and whose only eight MLAs won, had said that they would be giving unconditional support to AAP to form the government.
They also said that they were supporting AAP, just to save the people of Delhi from re-elections.
Sisodia said, it was the Congress which came to extend their support, the party had not gone to ask for support.

AAP had been saying that they won't take support from or extend support to Congress or BJP to form the government.

There had been difference of opinion among the newly elected party MLAs, some of them were against forming the government with the support from Congress while some were in favour of it.
To reach to a logical conclusion, AAP Convener Arvind Kejriwal had said they would go to the common man to get their views on the formation of government. AAP asked the people of Delhi to give their verdict through SMS, IVRS and email, also party would go to people through public meetings to get their views on the issue
Meanwhile, AAP has received a total of 6.25 lakh responses through SMS, IVRS and email on the issue of formation of government.
"Till now, we have received around 6.25 lakh opinion on the government formation issue since we have opened our lines on Tuesday evening," said Dilip Pandey, who handles party's web-based services.