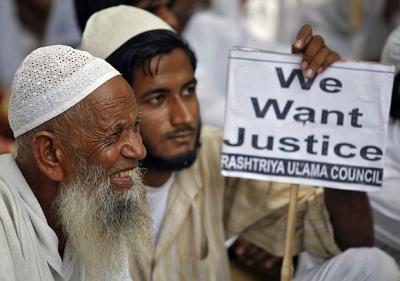 Development issues such as regularisation of colonies, the ghost of the Batla House encounter and the presence of a number of Muslim candidates, along with a few from the Gujjar community, make a heady election cocktail in the sensitive Okhla constituency.
Election campaigning is heating up in the constituency that has over 50 per cent Muslim voters, who are considered the dominant electoral force, followed by Gujjars (15 per cent) and Other Backward Classes (11 per cent).
This time the fight is likely to be fierce with a number of prominent Muslim leaders throwing their hats in the ring.
The Bharatiya Janata Party and the Bahujan Samaj Party have fielded Gujjar leaders, who are banking on the division of Muslim votes, besides support from Gujjar and OBC communities.
BSP state president Brahm Singh is contesting from Okhla while the BJP has fielded Dhir Singh Bidhuri. Brahm Singh had earlier lost a close by-election in 2009 when Congress Member of Legislative Assembly Pervez Hashmi had resigned after becoming a Rajya Sabha Member of Parliament.
Five years after the Batla encounter, political leaders in Okhla constituency are still raking up the issue to reap political dividends.
Brahm Singh was defeated by Asif Mohammad Khan of the Rahstriya Janata Dal, who is contesting as a Congress candidate this time. Asif had raised the Batla encounter issue vociferously in the 2009 by-poll but has chosen not to harp on it this time.
He is facing tough opposition from the likes of BSP's Singh, Aam Aadmi Party candidate Irfanullah Khan, Area councillor Shoaib Danish, who has quit the Congress to join the Janata Dal -United, Lok Jan Shakti party candidate Amanatullah Khan and Samajwadi Party candidate Amiruddin.
The opposition has been gunning for Asif for first criticising the Congress on the encounter case and then joining it.
Asif defends himself by saying," I want to make it clear that the Batla House encounter case was an issue in the Lok Sabha polls, not when I won the assembly polls."
"I stand by my word that the encounter was fake; but now the matter is in court and there is no point asking for a judicial enquiry. The encounter was fake and the Muslim youths were innocent," he said.
This is a crucial seat for the Congress in Delhi as it might indicate who the minority community is likely to vote for in the Lok Sabha polls. But it is not going to be easy for Asif as the Congress seems to be a divided house.
"Rajya Sabha MP of Congress Pervez Hashmi is working against me and he is trying to make sure that I don't win. This is not an allegation, even the public is saying it," Asif alleged.
A section of the Congress had strongly opposed the party's decision to give a ticket to Asif, arguing that a number of criminal cases are pending against him.
The main issues in Okhla remain that of development, including an acute water crisis and regularisation of unauthorised colonies.
"Our main aim is to ensure clean and transparent politics," AAP candidate Irfanullah said.
"From the Election Commission's point of view, there are two sensitive areas and one of them is Okhla. The development here is zero and in spite of being in South Delhi, this area is most neglected," he said.
"Regularisation has also been made a political issue. Promises are made but nothing is done. We will regularise the unauthorised colonies if we come to power," he said.
Irfanullah also called for justice to be done in the Batla House encounter case.
Okhla residents have been complaining that children from the area are denied admission in good public schools.
"There is an issue of education, acute water crisis, land for burial, roads, sewage and a host of other development issues that are the main rallying points in this area," Lok Jan Shakti party candidate Amanatullah Khan said.
"The sitting MLA won the last election by rallying against the Batla House encounter, but has now aligned with the Congress. This shows that he now regards the encounter as correct," he said.
The local residents of the area believe that it is an "open election" where multiple candidates have a chance.
"We are fed up of promises and plans. We need concrete development work in the area. Roads are broken, the sewage system is non-existent and water crisis is growing by the day," said Danish Jamshed, a resident of Johri farm.
"Development can only come when we are considered equal. The Batla House encounter has shown that innocent Muslims are often targeted," said Wasif Khalil, an engineer.
The constituency has a total of 2.19 lakh voters, of which over 87,000 are women and 1.31 lakh are men.
The encounter had taken place at flat no. L-18, Batla House in Jamia Nagar locality on September 19, 2008, six days after serial bomb blasts rocked Delhi, killing 26 people and injuring 133 others.
Of the five flat occupants, Atif Ameen and Mohd Sajid were killed during the encounter.
Highly-decorated Delhi Police Inspector Mohan Chand Sharma succumbed to the bullet injuries sustained during the encounter while head constable Balwant was injured.
Suspected Indian Mujahideen terrorist Shahzad Ahmad was convicted by a Delhi court in July for murdering a police inspector in the encounter.
Congress leader Digvijaya Singh had dubbed the encounter as fake, triggering a major controversy and a war of words between the BJP and the Congress.
Image: A protest against the Batla House encounter ' Photograph: Reuters