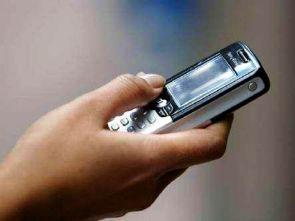 Delhi Election Commission on Friday directed all mobile service providers to stop "political" bulk SMS services 48 hours before the assembly election to ensure that parties do not influence voters during this period.
The commission will also keep a close tab on bulk SMSes circulated by various political parties in the run-up to the assembly polls to ensure that they do not entice voters or violate the Model Code of Conduct.
Operators have been directed to inform the Election Commission about bulk SMS bookings by political parties so that the money spent in this regard is properly accounted for and added into the expenditure account of the respective political party or candidate.
A meeting in this regard was organised on Friday by the commission with all major mobile service providers.
"We have asked mobile service providers to ensure that they do not send bulk messages booked by political parties 48 hours before polling. This has been done to ensure that they do not influence voters just before the election," Delhi's Chief Electoral Officer Vijay Dev said.
As far as content-monitoring of messages is concerned, an officer of Delhi Police Special Cell has been appointed as nodal officer. "The officer's duty is to ensure that there is no violation of Model Code of Conduct," Special Chief Electoral Officer Shurbir Singh said.
Mobile service providers have also been asked to ensure that SIM cards are not issued to people without proper verification.
"Generally, it has been noticed that the volume of sale of SIM cards goes up just before elections and the numbers bought on fake identities are used for intimidation or other anti-social purposes.
"Service providers will have to ensure that pre-activated SIM cards are not sold in the market. If any such instance comes to our notice, action will not only be taken against the dealer or the vendor, but also against the company," he said.
Meanwhile, in a meeting with bank officials, the commission directed them to provide it with details of separate accounts opened by candidates, who will start filing their nominations from Saturday.
According to election expenditure monitoring provisions, it is mandatory for every candidate to open a separate bank account for election-related transactions. Moreover, the Election Commission has fixed an upper limit for poll expenses by each candidate at Rs 14 lakh.
Candidates are also required to give PAN card details of their spouses and dependants to banks.
A nodal officer from bank has been deputed in each of the nine districts who will give a daily report on candidates' expenditure to District Election Officers. One nodal officer will be stationed at the office of Delhi Chief Electoral Officer.
Besides candidates' expenditure monitoring, nodal officers will also keep a tab on suspicious money flows and all transactions above Rs 1 lakh, Dev said.