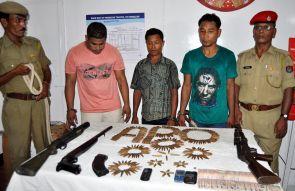 Two cadres of the outlawed Garo National Liberation Army and an accomplice were arrested by the Assam Police along with a huge cache of arms and ammunition from the Inter State Bus Terminus in Guwahati on Thursday

Guwahati city SSP A P Tiwary informed that one AK56 assault rifle, one short barrel factory-made gun, one RPG launcher, seven RPG cells, 350 rounds of ammunition of AK 56 rifle, 20 rounds of 9mm ammunition and five rounds of Insas rifle ammunition along with Rs 50,000 in cash were recovered from the gang .

The arms and ammunition were procured from Dimapur in Nagaland and being carried to Garo Hills in Meghalaya to be delivered to the outlawed militant group.

The arrested GNLA militants were identified as Janir Marak and Arwit Sangma. The third person was identified as Zahid Hussain who used to help GNLA militants to procure arms and ammunition and transship the consignments from Dimapur.
"Hussain used to get Rs 50,000 per such consignment on successful delivery of to the GNLA," the official said.

The GNLA is active in Garo tribe dominated Garo hills districts of Meghalaya bordering Bangladesh. The outfit has waged an armed revolution demanding a sovereign state for the Garo tribe. It is on an extortion spree in Garo hills areas and specially targets the coal traders.

Meghalaya Police has formed a special operation group to tame the rampaging GNLA ultras operating in Garo hills district. The outfit usually takes various routes through Assam to carry consignments of arms and ammunition to Garo hills.

Meanwhile, Assam Police have contacted its Meghalaya counterparts to know details about the two arrested GNLA militants.
Image: Assam Police personnel pose with the three arrested GNLA carders and the cache of arms and ammunition that was recovered from them.