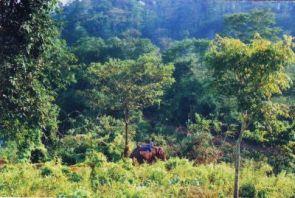 A K Agarwala, an official of the National Hydro Power Corporation, who was abducted by militants, was rescued by the Assam Police following an operation inside a thickly forested hilly area near Assam-Arunachal Pradesh boundary late Monday night.
Agarwala was kept in a hideout of militants belonging to National Democratic Front of Bodoland (Sangbijit faction). There was an exchange of fire between the militants and the police team for about 40 minutes during the rescue operation.
The police team also recovered one AK-56 rifle, a pistol and some ammunition left by the militants. The place is about 80 km from Tezpur, the district headquarter of Sonitpur.
The police team was led by two SPs, Arabinda Kalita of Sonitpur district and Jitmol Doley of Darrang district. The team went out to carry out operation from Charduwar police station around 3.30 pm on Monday and approached the hideout located at a small valley atop a steep ridge.
As soon as Agarwala was pulled out with the help of a scout when he had come out to relieve himself, the militants started firing at the police. The militants also lobbed a grenade on the police team. Police suspect that at least three militants were injured in the encounter.
The NHPC general manager who was posted at the upcoming 800-MW Tawang Basin hydro-electric power project in Arunachal Pradesh, was abducted by a group of militants near Bhalukpung on the Assam-Arunachal border on September 21. He was on his way from Tawang to Guwahati via Tezpur. The abductors had demanded Rs 12 crore as ransom for his release.

Additional DGP of Assam Police, A P Rout claimed that no ransom was paid. "Interceptions late Monday evening reveal that the top leaders of the faction pulled up the group engaged in the abduction for failing to extract even a rupee," he said.