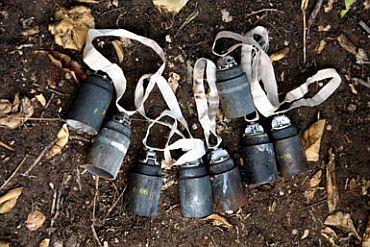 The army on Tuesday averted a major tragedy by detecting and defusing a powerful pre-planted Improvised Explosive Device on the strategic Srinagar-Muzaffarabad highway near Parimpora in Srinagar.
The timely detection of the IED prevented a major tragedy on the highway which was used by the state chief minister, Omar Abdullah twice during the day.
"The IED with over 11 Kg of explosives could have caused a serious threat to number of innocent people moving on the road as also the civil VIPs who were scheduled to move along the road," a defence spokesman said in a statement this evening.
"Based on the intelligence obtained by 2 Rashtriya Rifles battalion about the likelihood of planting of IED by terrorists, an extensive search was launched by the unit during the road opening resulting in detection of the improvised explosive device which was made using approximately 11 Kgs of explosives," the statement said.
"The IED, constructed using a pressure cooker, was placed in a rice bag near a culvert in the close proximity of the Shalteng petrol pump on the highway. To avert civilian causalities, the troops cordoned of the area, taking adequate security measures and neutralised the IED in the same place employing their expert bomb disposal squad."
"In doing so they averted a major incident which could have possibly been meant to cause fatal casualties to the local population as also the people travelling in the cavalcade of the VIP who was scheduled to move through the area."
It may be noted that this pattern of IED is similar to the one which was used in the Boston Marathon IED attack, the statement said.