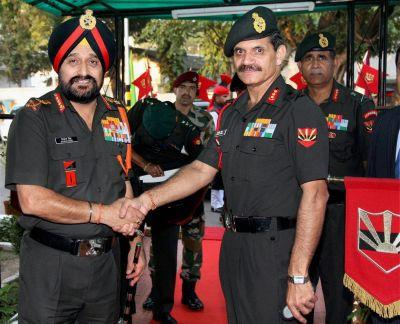 The government on Wednesday asserted that the appointment of Lieutenant General Dalbir Singh Suhag as the next Army Chief is final as the Congress raked up a controversy involving minister and former Army chief Gen V K Singh and demanded his resignation.
"As far as government is concerned, appointment (of Lt Gen Suhag as Army Chief) is final and the government stands by it," Defence Minister Arun Jaitley said in the Rajya Sabha.
His statement came when senior Congress leader Anand Sharma raised the issue of certain tweets against Army Chief-designate by Gen Singh. Jaitley said the previous United Progressive Alliance government had made the appointment few weeks ago and it is a practice that "we keep some issues outside the realm of inter-party politics".
He said the matter should not be raised directly or indirectly.
Earlier, Sharma raised the issues of tweets and demanded Gen Singh's removal from the Council of Ministers saying the matter was "very serious" and the comments by a minister do not "augur well".
The issue was raked up against the backdrop of Defence Ministry telling the Supreme Court in a recent affidavit that the decision of Gen Singh, then Army chief, to impose a promotion ban on Suhag was "illegal and premeditated".
Soon after the matter came to light, Gen Singh alleged that the "Defence Ministry affidavit is the same as it gave to Armed Forces Tribunal under protective and conniving UPA".
He also justified his decision to impose a Discipline and Vigilance ban on Lt Gen Suhag saying, "If unit kills innocents, does dacoity and then head of organisation tries to protect them, should he not be blamed? Criminals should go free!"
Image: Army chief General Bikram Singh will retire on July 31 following which Lt General Dalbir Singh Suhag (right) will take over.