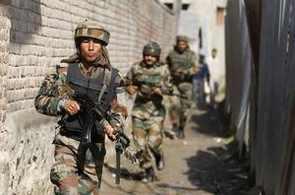 In a joint operation, army troops and police have busted a militant hideout and recovered a cache of ammunition and explosive material in Kishtwar district of Jammu and Kashmir.
A party of a Rashtriya Rifle battalion and Jammu and Kashmir police launched a search operation on Wednesday in General Area Chatru in Kishtwar district and busted the hideout, defence spokesperson S N Acharya said on Thursday.
Four rifles and a cache of explosives and ammunition material were recovered from the hideout.