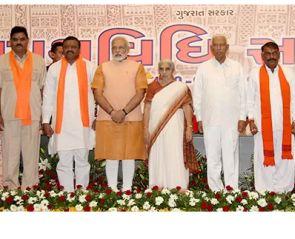 Coming down heavily on the UPA government, Bharatiya Janata Party's prime ministerial candidate Narendra Modi accused the Congress of having broken its promise. Modi also lambasted the Congress for avoiding media.
"The Congress has failed to live up to its promise of bringing down the prices of essential commodities within 100 days of coming to power. Even after 100 months in power, the prices have gone up. The party does not have the right to remain in power because it has failed to keep promise," he said.
Modi was in Pune on Friday to inaugurate the extended building of the DeenanathMangeshkarHospital. He addressed BJP workers at Pune's Lohegaon airport and also responded to criticism by Congress leaders. Singers Lata Mangeshkar and Asha Bhosale were present at the program.
"The Congress had promised to bring down the prices within 100 days of coming to power. But inflation is still rising. Till today, the rising prices were kept in control only during the regimes of Morarjibhai Desai and Atal Bihari Vajpayee. It was during National Democratic Alliance's rule that the poor used to get meals twice a day. People are the real critics in democracy. I have the belief in the 125 crore Indians," said Modi.
Modi also said the BJP government will put its report card to the public if it is elected in New Delhi. He also claimed there was a strong anti-Congress wave in the country. "In a democracy, all those in New Delhi should be servants of the people and not rulers," he said.