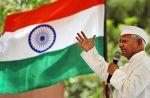 Anti-graft crusader Anna Hazare on Wednesday said he would rally against the government's decision of privatisation and opening of retail sector to foreign markets.
"Our worker has been fighting against corruption for many years and the government has sold out the jungles, land and water resources. It is the biggest threat. He is fighting for many years. Therefore, he said that we would take out a rally to make the general public aware. He asked to me to join the rally against the wrong path taken by the government. I am joining the rally against privatisation and the invitation given to the foreign companies," said Hazare.
Commenting over his fight against corruption, Hazare said their movement is in the interest of the nation.
"Even if we are fighting separately it is in the interest of the nation. We are fighting for the country," he added.
Social activist and former senior police officer, Kiran Bedi said that Right To Information activist and former Hazare aide; Akhil Gogoi has called upon Hazare to participate in a two-day national conclave on infiltration.
"Akhil Gogoi has called upon Anna and he has told you. We also do not know the reality," said Bedi.
Earlier on February 24, he had threatened to start another movement for passage of a strong public ombudsman bill to combat graft in the country, before the national polls, which are scheduled to take place in 2014.
Over the past year, India has been transfixed by a campaign led by Anna Hazare to force the government to create an ombudsman, which would prosecute corrupt politicians and bureaucrats.
Hazare's initial hunger strike brought millions of sympathisers out on the streets and forced the government into a series of humiliating U-turns.
But "Team Anna" had lost some steam. When Hazare launched his third hunger strike in Mumbai, just before the New Year, very few turned up and he had to call it off prematurely because he was ill.
Hazare said that miserable performance of the ruling Congress party was a result of backing out to bring the Lokpal bill.
However, many political experts believe that had the Congress brought the Jan Lokpal bill then they would have not failed so badly in the Uttar Pradesh assembly elections nor would they have faced electoral drubbing in Goa and Punjab assembly polls.
India's image as an investment destination was dented over the past year as the economy slowed, government reforms stalled and the telecom scandals along with high profile graft cases heightened concerns about government policies.