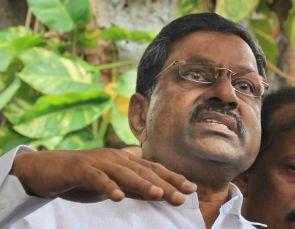 D L Ravindra Reddy, who was sacked from the Cabinet as Andhra Pradesh health minister a few days ago, Tuesday said he was hurt the way he was removed from his post.
Ravindra Reddy was removed from the post last Saturday for criticising the programmes implemented by the state government.
Taking pot shots at Chief Minister N Kiran Kumar Reddy on his sacking, the former minister alleged that publicity is given more importance than ensuring effective implementation of the welfare schemes.
Ravindra Reddy, who returned to Hyderabad late Monday night from abroad, talked about each of several welfare schemes with reporters and pointed out the alleged loopholes in their implementation.
"Publicity campaign started even before funds are released for the implementation of the schemes," he alleged.
Highlighting that he has been a loyal Congressman for several decades now, he said his endeavour is to see that Congress and its president Sonia Gandhi did not get a bad name for the state government's alleged failure to implement the welfare schemes effectively.
Asserting that he was not hankering for power, he said he felt anguished for being dismissed from the Cabinet.
"What did I do to be dismissed? Did I indulge in corruption? Am I a tainted person?," he asked.
Ravindra Reddy had offered to quit last year when he was stripped of some of the key subjects in health portfolio.
"When I am prepared to quit, there is no point in dismissing me," he said.
Replying to a query, he said he had expressed his feelings to the party leaders in Delhi.
Asked if he would join any other party if approached by them, he said the future course of action would be decided after talking to his supporters.
Replying to another query, Ravindra Reddy said he would not blame the party high command for his dismissal.
Taking exception to Reddy's outburst, Congress Chief Whip in the Assembly G Venkata Ramana Reddy said it is not fair for Ravindra Reddy to find fault with the government's programmes as he was a minister till a few days ago.
The government's constant endeavour is to see that the welfare schemes are implemented effectively and that it would definitely try to publicise the welfare programmes, he said.
Ravindra Reddy is the second minister after P Shanker Rao to be sacked from the Kiran Kumar Reddy Cabinet.
A senior-most MLA from Kadapa district, he was inducted into the state Cabinet in December 2010 when Kiran Kumar Reddy became the chief minister.
However, he turned a bitter critic of the chief minister and openly attacked the "unilateral style of functioning" of Kiran Reddy and the schemes he launched.
The minister had openly criticised the chief minister for the government schemes, be it the Re 1-a-kg rice scheme, the hike in power tariff or the latest Bangaru Talli (girl child incentive scheme).
He reportedly went to the extent of exhorting people to "chase and thrash us" if the new schemes (announced by the CM) were not properly implemented.
Image: SnapsIndia