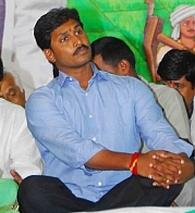 The state contributes 30-plus MPs -- a fatal number for the Congress to lose at the Centre, says Aditi Phadnis
Amid all the self-congratulatory backslapping in the Congress over the Karnataka electoral triumph, there were some sober voices from Andhra Pradesh -- Karnataka's neighbour. They warned the Congress not to be complacent: what had happened in Karnataka to the Bharatiya Janata Party could happen to the Congress in Andhra Pradesh, where it is in power.
In Karnataka, the BJP lost 13.4 per cent of its voters. However, the Congress managed to gain just 2.46 per cent votes, which means nearly 11 per cent was sliced away by B S Yeddyurappa's Karnataka Janata Party, independents and others. The Congress increased its seat tally by 50 per cent with a vote share rise of just 2.46 per cent.
Extrapolate this in Andhra Pradesh. Jaganmohan Reddy plays Yeddyurappa. So, what happens? Chandrababu Naidu's Telugu Desam Party, which was in alliance with the Telangana Rashtra Samiti, the Left parties and others in 2009, polled 35.56 per cent of the votes in the Assembly elections. The Congress was just marginally ahead with 37.03 per cent.
True, there was no Jaganmohan in 2009. But that's exactly the point. The TDP is already snapping at the Congress' heels. If Jaganmohan joins them -- well, the Congress could end up with a bad haemorrhage.
At the centre is the role of Chief Minister Kiran Kumar Reddy who is heading a supposedly Congress government -- supposedly because he can never be sure who in his government is backing him, and whose loyalties are actually with Jaganmohan.
To be fair to Kiran, he has many battles to fight. Two of his ministers resigned earlier this week following chargesheets against them for their links with Jaganmohan's companies. One of them, Roads Minister Dharmana Prasad Rao, actually resigned in August 2012, but asserts that the chief minister took no decision on his resignation, and he was "forced to resume his ministerial position".
There is a reason for the chief minister's tentativeness: he is simply not sure what might happen to his government if he takes action against any of his colleagues.
To understand Kiran's dilemma, a look at history is in order. Y S Rajashekhar Reddy's legacy has spawned a new contractor class in the state that has become a political factor. YSR encouraged the construction of irrigation and housing projects.
The oracle of our times, WikiLeaks, has a Chennai-based US diplomat noting that these big-ticket social programmes for the poor were mired in "nepotism, shadiness and profiteering". The diplomat puts the cost of YSR's Rajiv Swagruha Programme aimed at building 1.6 million low-cost houses in the state at $4-6 billion.
"The 26 new irrigation projects he had envisaged were expected to cost the state nearly $11 billion. With just four to five companies executing the projects through numerous sub-contractors and little oversight, there were many opportunities for corruption", WikiLeaks says. It is Jaganmohan who's paying for all that now... in jail.
But the state inevitably has had to pay the financial price. Former chief minister K Rosaiah kept warning YSR that irrigation projects were fine but the state could not afford to live beyond its means. In 2006-07, Andhra Pradesh was one of India's most indebted states, with little possibility of raising funds since 70 per cent of its population was engaged in agriculture. Its finances were in parlous conditions.
The debt was gradually brought down to 20 per cent in 2011-12. Under Kiran, the state reported a 19.5 per cent growth in tax revenue in 2011-12, up to January 2012 largely because e-filing was implemented with religious zeal. The state still has a huge debt, but at least something is being done about it.
Little wonder, then, that one of Finance Minister P Chidambaram's favourite chief ministers is Kiran (his father, the late Amanath Reddy, was an influential politician from Chittoor, an associate of P V Narasimha Rao and served as a minister in the state for several terms).
However, Kiran is out of his depths when tacking the other political problems of the state. Because he has no idea how the Centre plans to deal with the Telangana problem, he has no plan for it either.
Today, the chief minister, the chief of the Congress' state unit, the speaker, the chairman of the legislative council and the director-general of police are all from the Andhra region. So Telangana is left with a sense of political grievance that is not entirely unjustified.
Dissatisfaction with the leadership because the Congress is unable to answer questions about its stand on Telangana -- is it for it, or is it against it -- can be leveraged any time. Add to that the corruption of the past (Kiran does not have a reputation for being Mr Moneybags, unlike YSR).
But legacy issues remain for the party. The TDP is working strenuously -- Naidu just completed a 2,500 km padayatra in the state. Andhra Pradesh currently contributes more than 30 members of Parliament in the Congress Parliamentary Party. This figure could come down to five.
Photo: Jaganmohan Reddy