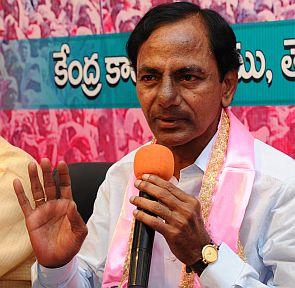 In a development likely to add to the anxieties of the Andhra-Rayalaseema settlers in the Telangana region, the Telangana Rashtra Samiti President K Chandrashekhar Rao has said that the government employees of other regions working in Telangana will have to go back to their original places. "They will not have any other options," he said.
Rao was addressing a group of non-gazetted officers representatives. He said that if the government of Andhra had to work, the Andhra employees will have to go there. "We have never said Bhago… bhago (run, run) to anybody. We are saying only those who had cornered the jobs wrongly will have to go back," he said.
Praising the Telangana government employees and teachers for their valiant role in struggle for separate state specially the indefinite strikes in the past, Rao said that struggle will continue till Parliament passes the resolution for a separate state.
"We should remember for how long the women reservation bill and other bills were pending in Parliament. If we don't want the Telangana bill to meet the same fate, we should be alert," he said.
"The government of Telangana will be an employee-friendly government and will give special increments to employees," he said.
He urged the employees to play an important role in rebuilding Telangana and make it the number one state in the country.