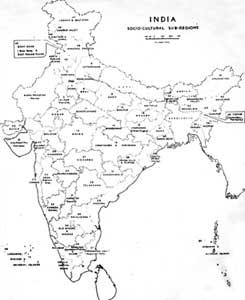 A radical decision to create Telangana is about to be endorsed by Congress Working Committee under the leadership of the status-quoist party president, Sonia Gandhi.

The creation of Telangana will be essentially because people of different regions are not happy with the Nehruvian era's criteria where amongst the many issues language was the basis of creating internal boundaries within India.

It will be established finally that people of different regions are not only bound by language but rather they connect with the common idea of development.

If the disconnect is created by unequal development, people rebel and politicians succumb to remain relevant in a manner that the Congress Working Committee is today.

Seminar, India's foremost monthly for thinking people, had prepared in 1960s a map of India based on broad cultural identities of different geographical areas.

Those were different times and a different India.

In a way, this map highlights where India's cultural faultlines lie.
Click on the image for a larger view of the map