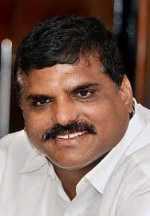 In the backdrop of the Delhi gang-rape case, Andhra Pradesh Congress Committee President Botsa Satyanarayana on Monday stirred a controversy by questioning the need for women to roam in streets at midnight.
"Do we roam in streets at midnight as we got Independence at midnight? It would have been better if the girl did not travel by a private bus at that time," the Pradesh Congress Committee president, who is also the state Transport Minister, told reporters in Hyderabad.
However, realising the possible fallout of his remarks, Satyanarayana re-convened a press conference and retracted his words.
"As a father myself, I only tried to express my anguish," he clarified.
"What happened was very unfortunate and I strongly condemn it," he said.
He also expressed his regret for having hurt the feelings of women and said the government should ensure safety and security of all.