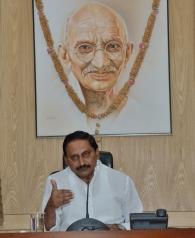 Terming the rejection of the Andhra Pradesh Reorganisation-2013 Bill by the state legislature as the Brahmastra (a mythological weapon of great power), Chief Minister N Kiran Kumar Reddy has expressed confidence that President Pranab Mukherjee would take into consideration that matter before sending the bill to the Parliament.
"I am confident that the President will take into consideration the views of the assembly and the Council (on the bill), the views that are not questioned and challenged, the view that the state should be united. Let's see what happens," he told reporters.
Rejecting the criticism by Telangana leaders that the voice vote decision on the bill in the assembly is useless, he said, "Voice vote means unchallenged and unopposed".
Asserting that 80 to 90 per cent of the bills in legislative assembly or Parliament are passed by the voice vote, the chief minister said the recent Lokpal bill, Food Security bill and even the bills for the formation of Jharkhand, Chattisgarh were passed by the voice vote.
"No state in India was formed after the resolution was defeated in the assembly. This resolution is the Brahmastra to keep the state united," he said.
Replying to a query, Kiran Kumar said he had sought time from the President to present the case for keeping the state united.
The future course of action would be decided after consultations with Seemandhra Congress legislators, he said in response to a query.
Asked if he would undertake a fast in Delhi over the issue, he said, "I don't know about that. Let's see".
Noting that Telugu people should decide their own future, Kiran Kumar said, "Elections are just two months away. Let the people take a decision".
The President can seek legal advice on the issue of the Telangana Bill and he would take a decision only after taking into consideration all relevant matters, he said.