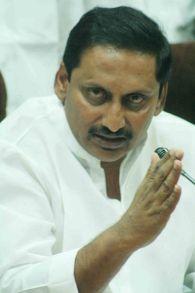 In an 85-page note to the Group of Ministers set up to look into the bifurcation of Andhra Pradesh, Chief Minister Kiran Reddy on Monday raised 36 crucial points on why a separate state of Telangana is not desirable.
Read: Kiran Reddy's note to GoM against the creation of Telangana
Reddy's 'submission for reconsideration' memorandum calls the GoM's attention to problems related to Telangana-Rayalaseema river water sharing, concerns over the power sector, employment, education and short-circuiting of legal and constitutional convention.
The issues raised by the Andhra Pradesh chief minister:
Is separation-bifurcation a solution to the present crisis?;
Significance of United Andhra Pradesh;
Status of Hyderabad;
Can Seemandhra's contribution be disregarded?;
River water-sharing;
Views of the first State Reorganisation Commission;
Agrarian importance of Andhra Pradesh;
Projects on River Krishna, sacrifices by people of all three regions;
Jalaygyam;
Shortfall of water availability in River Krishna and competing interests;
Dam management and control on the Krishna river;
New projects on the Krishna river;
Complexities in the inter-se usage of the waters in Srisailam dam;
Present management of deficit in the state of Andhra Pradesh;
Difficulties in managing Srisailam and Nagarjunasagar projects;
Institutional mechanism for management of the Krishna river;
Inter-river basin transfer;
Emergency inter-basin transfer of water;
The dilemma of the Polavaram multipurpose project;
The problems of Telangana;
The problems of Rayalaseema;
Upper riprarian projects in the Krishna river;
Telangana deprived of its rightful allocated share in Krishna river;
Diversion of waters outside the Krishna basin: is it not permissible?;
Implementation of tribunal awards;
Proliferation of river water disputes;
Irrigation map of Andhra Pradesh;
Project map of Godavari basin;
Project map of Krishna basin;
Power sector concerns;
Employment concerns;
Government employees;
Private employees in organised sector;
Skilled and semi-skilled;
Self-employed;
Professionals;
Complexities of 371 D on the division process;
Educational sector concerns;
Feeling of short-circuiting of legal constitutional conventions;
Impact of bifurcation on maintenance of law and order;
Copy of the letter the CM of Andhra Pradesh wrote to the President of India;
Copy of the letter the CM of Andhra Pradesh wrote to the prime minister;
Kind courtesy: Vaartha, a leading Telugu daily newspaper.