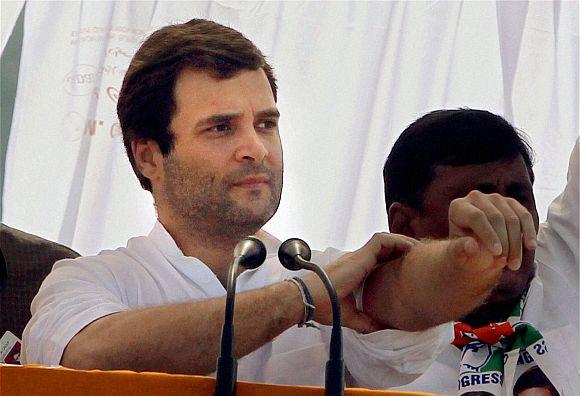 Skirting any comments on Delhi Chief Minister Arvind Kejriwal-led Aam Aadmi Party (demonstration on the streets of Delhi, Congress vice-president Rahul Gandhi chose to train his guns at the Uttar Pradesh government for neglecting Amethi, the Gandhi family's political bastion.
Rahul is on a two-day visit to his constituency. Delayed due to inclement weather in New Delhi from where his aircraft could not take off on schedule, Rahul landed at the Fursatganj airstrip, about 35 km from Amethi at around 5 pm on Wednesday .
Accompanied by his sister Priyanka, the duo would hold interactions with local party men on Thursday, when they are scheduled to return to Delhi later in the evening.
Replying to questions raised by an inquisitive media at the Gauriganj Congress party office in his constituency, Rahul preferred to turn a deaf ear to a pointed question about his reaction to Kejriwal's demonstration against the Union government.
Instead, he went about harping on what all he had done for Amethi and its people. "I have done my best to deliver to the people of Amethi, whatever is within the means and jurisdiction of the central government."
He sought to clarify that there were certain areas where the centre was not in a position to do anything.
"We have done a lot of work on development of national highways around the region; among other key tasks undertaken by the centre were development of modern medical facilities, besides employment generation and empowerment of women through self-help groups created with our initiative", he pointed out.
Without naming the AAP or its leader Kumar Vishwas who was camping in Amethi, from where he proposes to contest against him, Rahul added, "We do not have a habit of talking big and making tall statements; the Congress believes in doing concrete work."
Perhaps the idea behind avoiding even an oral comment on AAP was to even avoid acknowledgement of the presence of a contestant on his home turf from where he had won two successive Lok Sabha elections with a record margin.
Rahul took everyone by surprise when he set aside all security protocol to let a frail elderly woman hop into his vehicle and carry her some distance so that she could fulfill her desire to talk to him one-to-one.
In her seventies, the woman Ramsuratiya was seen hanging around the airstrip since the morning. Later on being asked, she said, "I did not wish to seek anything from Rahul Gandhi; I just wanted to bless him."
Interestingly, Gulabi Gang leader and well known tribal woman activist Sampat Pal, who had come here all the way from Banda, sang a song to run down Vishwas.