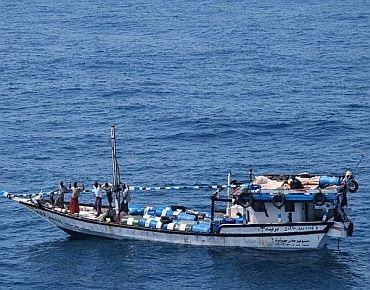 A French Navy has rescued eleven Indian sailors from suspected pirates at the mouth of the Gulf of Aden. According to a media release of the Embassy of France in New Delhi, the rescue operation took place on January 18 off the coast of Oman.
The embassy release further revealed that the French Landing Platform Dock Siroco, a flagship of the EU Naval Force Atalanta, released the 11 Indian crew members of a dhow that had been attacked by suspected pirates at the mouth of the Gulf of Aden.

A boarding team from the Siroco arrested five suspected pirates who were holding the Indian crew hostage, the embassy release stated.

The release said that the headquarters of EU Naval Force Atalanta on the LPD Siroco was alerted, via the global maritime information exchange network, of the attack of an oil tanker, the Nave Atropos, sailing under the Marshall Islands flag.

Late in the evening, at least one skiff opened fire while approaching the oil tanker.

The on-board armed security team immediately returned fire, forcing the pirates to sail away from the merchant ship and to cease their attack.

Relayed to all ships and military assets in the area, the incident started off a prompt international coordination operation carried out by the Atalanta headquarters.

All the information gathered and regularly updated, with the support of other counter-piracy forces near the attack area, helped to zero in on the location of a dhow suspected of having served as the attackers' mother-ship.

The Siroco, then situated around 200 nautical miles (less than 400 km) from this dhow, undertook to intercept it.

A maritime patrol aircraft from other counter-piracy forces and the Siroco's own helicopter pursued the dhow for several hours before it was intercepted by the LPDs on January 18.

The French crew visually identified the dhow as the Shane Hind, for which they had been on the lookout since the oil tanker attack.