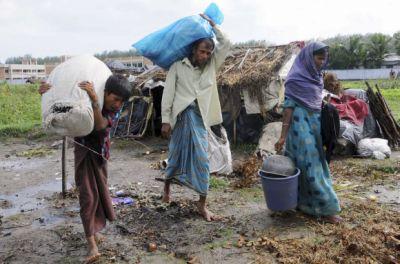 North-eastern states have been put on high alert by the authorities even as cyclone Mahasen entered neighbouring Bangladesh and partially swept across BarakValley in south Assam on Thursday afternoon.
Movement of all types of boats, ferries and all other vessels on the Brahmaputra, Barak and other rivers in Assam have been suspended. The Mizoram government has ordered all the schools to remain close for two days from today as precautionary measure. The southern districts of Mizoram are feared to face maximum impact of the cyclone.
An official source informed that Mizoram, Tripura and the BarakValley in southern Assam were likely to experience the maximum impact of the cyclone though its velocity got reduced considerably even as it entered the northeast.
The velocity of the cyclone is likely to reduce considerably in comparison to what was forecast earlier. The Brahmaputra Valley in Assam is expected to receive moderate rainfall during 36 hours beginning Thursday afternoon. Plying of all types of boats have been suspended on the Brahmaputra and other rivers while fishermen have been asked to keep away from the rivers across the state by the disaster management authority in Assam.
Kamrup district authorities in Assam have suspended plying of boats and ferries on the BrahmaputraRiver for three days beginning today. The National Disaster Response Force and the State Disaster Response Force teams have been kept prepared to deal with any emergency.
The meteorological department has forecast squally wind ranging from 55 to 75 kmph over southern Assam, Nagaland, Manipur, Mizoram & Tripura, with heavy to very heavy rainfall and thunder-showers over the area in the next 36 hours.
Heavy incessant rain since Wednesday afternoon has affected normal life in Tripura which is surrounded by Bangladesh on its three directions. The Tripura government has sounded a high alert despite the reduction of velocity of the cyclone.