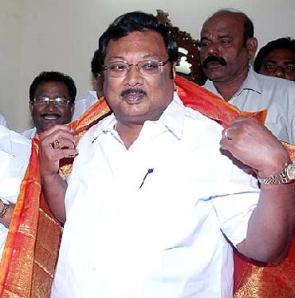 The Dravida Munnetra Kazhagam was left embarrassed on Thursday when suspended Denied Member of Parliament and former Union minister M K Alagiri called on Prime Minister Manmohan Singh.
Sources close to Alagiri described the meeting as a "courtesy" call.
The former DMK leader thanked the prime minister for giving him an opportunity to serve in the Union Council for four years between 2009 and 2013.
Alagiri, who is the elder son of party patriarch M Karunanidhi, told reporters that the prime minister expressed regret over the DMK walking out of the United Progressive Alliance a year before.
The meeting comes amidst reports that Alagiri, dejected over his expulsion from the DMK, was considering floating a new political party.
He is also believed to be dismayed over his supporters not finding a place in the Lok Sabha candidate list of the DMK, which was declared this week.
The DMK has denied a ticket to Alagiri and two of his loyalists.
The former Union minister is believed to have discussed the prevailing political situation in Tamil Nadu, where the Congress has not found an alliance partner for the Lok Sabha polls.
During the meeting, Alagiri requested Dr Singh to name the Madurai airport after freedom fighter Pasumpon Muthuramalinga Thevar.
Sources said Alagiri informed officials of the Prime Minister's Office that he and two of the DMK MPs -- D Napolean and J K Riteish -- will vacate the official bungalows allotted to them.
Rajya Sabha MP K P Ramalingam, who is a staunch supporter of Alagiri, was also present at the meeting.
Image: M K Alagiri