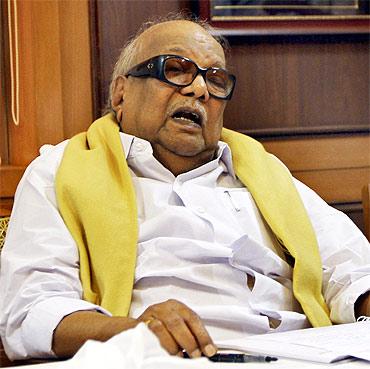 Amid strains in the Dravida Munnetra Kazhagam's first family over leadership squabbles, party chief M Karunanidhi on Tuesday issued a veiled warning to his Madurai-based son M K Alagiri, saying those who went against party diktat would be expelled.
Miffed at Alagiri's reported remarks against DMK's possible tie-up with the Vijayakant-led Desiya Morpokku Dravida Kazhagam for the Lok Sabha polls, Karunanidhi said he himself had as party "president," expressed joy over a possible alliance between the two.
There were reports that Alagiri had suggested against a DMK-DMDK tie-up and if these were true then "there is no connection between them and DMK," Karunanidhi said, seeking to distance himself from Alagiri's remarks.
It was up to the executive and general council or the "authorised high command" to decide on alliance prospects, he told media persons in Chennai.

Alagiri's remarks were in contrast to the statement made by him welcoming DMK-DMDK alliance, and this was "not only regrettable but also condemnable," Karunanidhi said.
"I make it clear that those who make such unnecessary contrasting remarks and thus try to affect party discipline, whoever they are, disciplinary action will be initiated against them and they will be expelled, even from party membership," he said, adding, this decision applied to all DMK members at all times.
Karunanidhi's warning comes a day after Alagiri's younger brother Stalin snubbed him at Tiruchirappalli, welcoming his party's alliance with DMDK besides quipping that he doesn't read such "unnecessary news items," when asked about Alagiri's reported views against any tie-up with Vijayakant's party.

Differences between Alagiri and Stalin are well-known with both sparring on the issue of who is the political heir apparent to Karunanidhi.
While the 90-year-old DMK chief had at times hinted that Stalin could well be his successor, Alagiri had challenged that, saying he would not accept anyone other than Karunanidhi as his leader.

The DMK chief alleged that a section of media were against a DMK-DMDK alliance. The tie-up, he claimed, would be in the interest of the welfare of the people of the state.
Such media organisations were trying to "divert" people away so that the alliance did not fructify, he said, adding, they were therefore carrying "mischievous" reports about the senior leaders of the respective parties.

Without naming anybody, he claimed some journalists were unable to digest his remarks that he would be happy if DMDK came forward for an alliance with his party and were therefore levelling a volley of criticism (against DMK).

DMDK emerged the principal opposition in the state assembly, edging DMK to the third place in the 2011 polls which it fought in alliance with All India Anna Dravida Munnetra Kazhagam.
But the two parties turned bitter opponents later with Chief Minister Jayalalithaa regretting the tie-up.