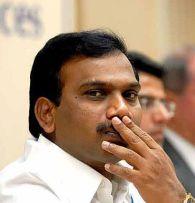 Dravida Munnetra Kazhagam supremo M Karunanidhi on Monday renominated former telecom minister and 2G scam accused A Raja for the April 24 Lok Sabha polls in Tamil Nadu. He also sent a strong message to rebels in the party by denying a ticket to his son M K Alagiri.
Another former telecom minister and also an accused in the 2G scam, Dayanidhi Maran, too was renominated by the party chief.
Raja (Nilagiri-SC) and Maran (Central Chennai) have been allotted the same constituencies they represent in the current Lok Sabha.
DMK in its list of 35 candidates released, including for the lone seat in Puducherry, rejected renomination to 10 sitting MPs and favoured only eight, including T R Baalu to seek re-election.
Karunanidhi while releasing the list at a hurriedly convened press conference, said 5 seats have been allocated to its allies Viduthalai Chiruthaigal Katchi, Indian Union Muslim League, Manithaneya Makkal Katchi and Puthiya Tamilagam.
The party not only denied ticket to Madurai constituency MP and its strongman in southern parts Alagiri, whom it suspended from DMK in January for acts of indiscipline, but also to his supporters, D Napolean (Perambalur) and J K Rithieesh (Ramanathapuram).
Baalu who represented Sriperumbudur Lok Sabha seat has shifted to Thanjavur. T K S Elangovan will contest from South Chennai instead of North Chennai, the seat he currently holds.
Answering queries from reporters, Karunanidhi stoutly defended fielding of Raja and Maran, saying "charges against them are weak".
Evading a direct reply to Alagiri's reported remarks that he was in touch with his supporters to float a new party, and that he may take a decision in a month or two about it, the DMK patriarch shot back saying, "this (press conference) is intended to announce the DMK candidates list. Please do not ask hurting questions".
He announced V Veluchamy for Madurai, presently being represented by Alagiri.
Flanked by his son and daughter, Stalin and Kanimozhi, besides DMK general secretary K Anbazhagan among others, Karunanidhi said Monday's list was subject to change, seen as an indication that some more allies could join his party-led Democratic Progressive Alliance.
He however said no parleys had been held with the two Left parties, CPI-M and CPI, who had walked out of AIADMK alliance last week, miffed over the Jayalalithaa-led party's approach towards seat-sharing talks.
Asked if his party would set a time-frame for the Left to consider joining DPA, he said a 'democratic and straight forward' party like his DMK cannot set terms in this regard.
Tamil Nadu has 39 Lok Sabha seats.
When reporters sought to know if Congress could join DPA, he said he had only come across media reports in this regard.
By naming candidates for all 39 seats in Tamil Nadu and also the lone Puducherry constituency, DMK has clearly signalled that it has shut its doors to the Congress, its former ally, with which it snapped ties in March last year over the Tamils issue.
Now it will be imminent for Congress to fight the poll all alone, with none of the Dravidian or local outfits coming forward to forge a poll truck with it.
A spectre of 1998 Lok Sabha scene, in which Congress contested 35 seats on its own and scored a blank seems to haunt the Sonia Gandhi led party in this election.
Congress had won nine seats in 2009 when it contested 16 constituencies in alliance with DMK.
Resentment among Congress cadres across Tamil Nadu over the party's silence in pronouncing its poll strategy has been growing, setting among them a sense of "demoralisation".
In a clear indication of the mood of partymen, Shipping Minister G K Vasan urged the Congress High Command to take an early decision on its poll strategy for Tamil Nadu while expressing disappointment over the delay.
"The AICC has not taken any decision on Tamil Nadu as regards the general elections. Hence the party's poll work and strategies are getting delayed," he told reporters.
However, putting up a brave face, Union Finance Minister P Chidambaram said Congress would field candidates in all 40 constituencies.
"Congress can face elections alone or with allies. Parties like Janata Party, United Janata Dal fell into oblivion, but Congress is not like that. Even if there is no alliance we will field candidates in all constituencies and seek votes telling people about the party's achievements," he said addressing the party's booth committee workers at Manamadurai in Madurai district on Sunday.
Congress' last-minute efforts to stitch an alliance with DMK was reportedly blocked by its senior leader M K Stalin, while actor-politician Vijaykanth-led DMDK, wooed by it, has embraced the BJP.
Image: Former telecom minister and 2G scam accused A Raja