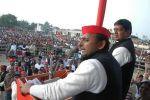 It was yet another fulfillment of his election promise when Uttar Pradesh Chief Minister Akhilesh Yadav gave away 10,000 laptops to college students at a ceremony at the Colvin Taluqdar's College ground on Monday.
The much-awaited exercise came just four days before the country's youngest chief minister completes one year in office. Akhilesh was sworn in amid much fanfare as UP chief minister on March 15, 2012, following which his father and Samajwadi Party patriarch Mulayam Singh Yadav abdicated the position he had earlier held three times.
The junior Yadav had started out on a clean slate to reinvent the rustic ways of the Samajwadi Party by talking about computers and internet. While 10,000 laptops were given away on the inaugural day, the remaining 14.90 lakh would be distributed in different parts of the state over the next six months.
The 14-inch LED HP model has been specially provided with a three-hour battery backup and has software in English, Hindi and Urdu.
Speaking with pride and satisfaction, Akhilesh told a huge gathering, "I am delighted to distribute these laptops that our government had conceived as an unparalleled step towards empowering young people to take a stride into the modern world."
Taking a dig at his political opponents, who have been critical of the promises made by his government, he said, "The opposition has always ridiculed our plan to give 15 lakh laptops to students passing class XII and 26 lakh tablets to those clearing class X. It was something like people ridiculing James Watt for talking about inventing the steam engine as they said it would never happen. Eventually when he created the steam engine, they started saying that the engine would not stop."
He assured the youth, "Our next target is to generate more employment for which we are currently paving ways to attract investments."
The function was attended by half a dozen senior ministers of Yadav's cabinet, including his uncle and with multiple portfolios Shivpal Yadav and Azam Khan. They all lauded Akhilesh for conceiving the idea of giving laptops to students -- something that was unprecedented in any other state of the country.
Mulayam Singh Yadav was however conspicuous by his absence.