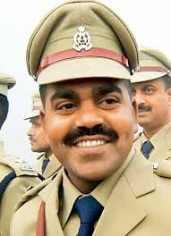 Faced with hurdles in getting clues in its probe into the killings of a Uttar Pradesh deputy superintendent of police and two others, the Central Bureau of Investigation has set up a camp office at Kunda village on Allahabad-Lucknow highway and made an appeal for information on the case.

The CBI, which was handed over the probe into the sensational murder of Zia-ul-Haq and two others, has set up a camp office at the Panchayat Bhawan at Kunda and appealed to people to come forward and provide information to its sleuths as the agency feels that pressure among the villagers to keep quiet was too high.

Local MLA Raghuraj Pratap Singh alias "Raja Bhaiya", against whom 16 cases are pending in courts and police stations, is an accused in the case.

Unable to get even a single witness, the CBI has circulated a telephone number 05341-230006 and an email 'spscu1del@cbi.gov.in', asking people to provide information about the murder of Haq and two others -- village head Nanhe Yadav and his brother Suresh Yadav -- on March 2.

The agency has promised to keep the identity of the informant secret, if so desired.

"The CBI re-assures that no citizen would face any harassment during the aforesaid investigations and appeals to residents, some of whom seem to have made themselves unavailable, to return to their homes and assist CBI in a fair probe," an agency spokesperson said.
According to the preliminary investigation so far, the CBI could not find many of male witnesses in the village as they had been on run away ever since the agency took over the investigation.
"There has been a concerted effort to spread a disinformation campaign about CBI by certain vested interests and we are trying to fight that only," said one of the CBI officials associated with the probe.
Raja Bhaiya had to resign as a minister in the Akhilesh Yadav government in UP after his name cropped up in the investigation.
Several political leaders including Congress Vice President Rahul Gandhi and UP Chief Minister Akhilesh Yadav have visited Kunda in Pratapgarh district and met the family members of the slain police officer.
The CBI has registered four cases pertaining to the three murders in village Balipur, Police Station Hathigawan in Kunda Tehsil.
A CBI team probing the case has been trying to corroborate the chain of events and has questioned a suspended state police officer. He was taken to the crime scene late last evening along with another officer to match chain of events based on claims made by him.

Image: Uttar Pradesh deputy superintendent of police Zia-ul-Haq was murdered on March 2