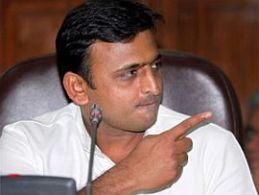 Uttar Pradesh Chief Minister Akhilesh Yadav, now in the United States, on Friday boycotted the Harvard lecture he was due to deliver in protest against his minister Azam Khan's detention at the Boston airport.
The political members of the delegation from Uttar Pradesh are not attending any of Harvard events in protest, Harvard sources told PTI.
But, the state chief secretary Jawed Usmani will make a presentation on behalf of the Chief Minister, they said.
The chief minister and Azam Khan are leaving Boston several hours before their scheduled departure, sources said.
Yadav was invited to deliver a lecture at HarvardUniversity in Boston Friday evening on the recently held Mahakumbh Mela at Allahabad.
Khan, a senior leader of the ruling Samajwadi Party in UP and also the state urban development minister who was accompanying Yadav, was detained for about 10 minutes at the Boston Logan International Airport for "further questioning" on Wednesday after he landed in a scheduled British Airways flight from India.
Taking serious note of the questioning of Khan, the Indian Embassy has raised the issue with the US State Department in Washington.
"The issue has been taken up with the State Department," the Indian embassy spokesman, M Sridharan, told PTI in response to a question if the embassy was aware of the incident at Boston airport.
The lecture by Yadav was to focus on the challenges faced by the UP administration in organising the recent Kumbh mela in Allahabad attended by millions of people.
According to sources familiar with the incident, Khan was detained for about 10 minutes for "further questioning" after he landed in a scheduled British Airways flight from India.
The sources said that when the visiting team landed at the airport, the Immigration and Border Protection officials accorded due courtesy and respect at the arrival point and even helped them in filling the arrival forms for entry into the US.
They were received and escorted by the officials of the Consulate General of India in New York and after they were cleared for entry, a woman officer of the US Customs and Border Protection wing of the Homeland Security took Khan to an adjacent room "for further questioning." The extended interview lasted for ten minutes and the minister was then cleared.