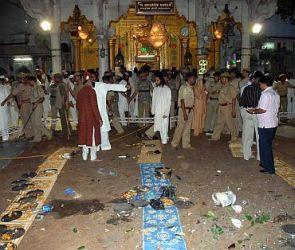 A special National Investigation Agency court in Jaipur has framed murder charges against seven persons, including key accused Aseemanand, in the 2007 Ajmer Dargah blast case.
Along with Aseemanand, Devendra Gupta, Lokesh Sharma, Chandrashekher Leve, Bharat Mohan Rateshwar, Jarshad Bhjai and Mukesh Wasani have been charged under sections 302 (murder) and 307 (attempt to murder) of IPC.
They have also been booked under the Explosives Act for causing an explosion at the Dargah to create terror and under the Unlawful Activities Act for causing communal disharmony and waging war against the State.
The two FIRs were initially registered at Ajmer in 2007 and subsequently the investigation was transferred to NIA in 2011. The court framed charges based on the NIA charge sheet.
Three persons were killed and 20 injured in the blasts in October 2007.