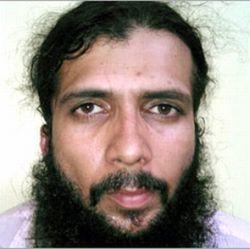 National Investigation Agency brought Dilsukhnagar bomb blast suspect and Indian Mujahideen co-founder Yasin Bhatkal to Hyderabad on a transit warrant on Sunday.
Bhatkal, who was arrested earlier this month in Nepal along with another accomplice Asadullah Akhtar alias Tabrez, was brought to Begumpet airport in a special aircraft from New Delhi and shifted to an unknown place for questioning about his role in the twin blasts of February 21.
A court in Delhi had granted permission to NIA to take him to Hyderabad. NIA suspects that Yasin had played a major role in the twin blasts in which 17 people were killed and more than hundred were injured. Bhatkal was expected to be produced in Hyderabad court on Monday.
Earlier, the NIA had brought prime suspect Tabrez to Hyderabad and he is lodged in Charalpally jail on 14 days judicial custody.
NIA suspects that Tabrez had planted the bomb on a bicycle in the busy commercial hub of Dilsukhnagar. Investigators were trying to find out the other perpetrator of the blast and they expect Bhatkal to throw more light on the case.
Image: Yasin Bhatkal