On Thursday at 1430 IST the sea had begun advancing closer to Ganapathypuram village in Kanyakumari district. Hardly anybody noticed. High and low tides are part of life here as day and night are anywhere else.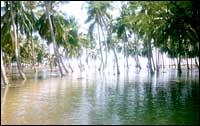 It was a no moon night. They knew the sea would be turbulent. But the sense of familiarity gave way to worry when the sea breached a wall and started lapping at a coconut grove on the coast.

As the villagers watched the phenomenon with dismay, the memories of last year's devastating tsunami were fresh in everybody's mind.

By Friday afternoon the sea had entered the village and was advancing relentlessly. Villagers, after initial attempts to pump the water out from their courtyards, had given up realising the futility of the exercise.
In neighbouring Rajakkamangalam harbour too the sea breached a wall at 0200 IST and dragged in catamarans. The fishermen managed to save their boats by dragging them further inland. Inmates of temporary shelters put up by the government after the tsunami fled and spent the night in a church.

Kanyakumari Collector Sunil Paliwal was at an Indian Air Force show for tsunami orphans when he got a call from Ganapathypuram. He rushed there immediately and ordered dumping of a hundred lorries of sand to seal the breach.

On Sunday, he will meet local officials again to review the situation.

As the word spread, more government officials converged on the village. The signs were worrying. The full moon night had ended, but the sea water had not stopped its advance inland.

Ganapathypuram is 10 km from Colachel, where over 600 people died in the tsunami. A majority of the people here now live in temporary shelters provided by the government and non-government organisations.

Also see:
Our heroes: Colachel's father figure
Colachel's little saviours