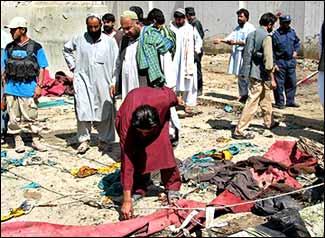 A suicide bomb tore through a mosque in southern Afghanistan at the funeral Wednesday of a Muslim cleric who spoke out against the Taliban, killing at least 20 people including the Kabul police chief, officials said. Dozens more were wounded.
Hundreds of mourners were crowded inside the Mullah Abdul Fayaz Mosque in the center of the main southern city of Kandahar when the bomb went off around 9 a.m.
Afghan Ministry of Interior spokesman Latfullah Mashal said the capital's police commander, Gen. Akram Khakrezwal was killed along with some other police officers attending the funeral. Mashal said it was a suicide bombing.
In the aftermath, an Associated Press reporter saw body parts and clothes strewn around the mosque, and pools of blood on the floor.
"I was knocked unconscious by the blast. When I woke up, so many people were killed or wounded. People were running around, some were lying on the ground crying. Dead bodies were everywhere," said Nanai Agha, a mourner who was inside the mosque but survived the blast because he was behind a wall when the bomb detonated.
Kandahar's deputy police chief, Gen. Salim Khan, said the explosion occurred inside the mosque near where people remove their shoes before praying.
Nazir Ahmadzai, a doctor at Kandahar Hospital, said 20 people had been killed and 45 wounded _ many of them Khakrezwal's bodyguards.
The hospital's director, however, said 72 were wounded, four gravely.
"The wounded are telling me that a suicide attacker entered the mosque and then blew himself up," said hospital chief Mohammed Hashim Alokozai.
Many local leaders had been expected to attend the funeral of Mullah Abdul Fayaz, the top Muslim leader in the province, whom the mosque is named after.
Fayaz, a supporter of President Hamid Karzai, was shot dead in Kandahar on Sunday by suspected Taliban gunmen -- a week after he led a call for people not to support the rebels.
Even before the blast, security was tight. Afterward, more police were deployed around the mosque, the main city hospital and other sites around the city.
Kandahar was a stronghold of the Taliban regime that was ousted from power in late 2001 by US-led forces for harboring al-Qaida leader Osama bin Laden.
Taliban rebels and other militants opposed to Karzai's US-backed government have ramped up their insurgency in recent weeks after a winter lull with a series of bombings and other attacks.
US-led coalition forces and Afghan troops have hit back hard, killing nearly 200 suspected insurgents and capturing dozens since March.
Kandahar has been hit by bombings before.
On March 17, a roadside blast killed five people and injured more than 30. Authorities blamed anti-government rebels for the attack, which took place as US
Secretary of State Condoleezza Rice was in the capital Kabul, about 450 kilometers (280 miles) to the north.
In January 2004, a bomb attached to a bicycle killed at least 15 people, most of them children, and injured dozens more in the city. Authorities blamed Taliban militants.
AP Photo/Noor Khan