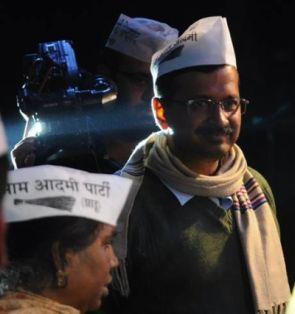 Keeping the suspense on, Aam Admi Party on Tuesday said it will go to people of Delhi to elicit their views on forming a government with support from Congress and make the decision public on Monday.
After a meeting of the party's political affairs committee and the newly-elected MLAs, AAP chief Arvind Kejriwal said they would distribute 25 lakh copies of letters seeking people's views on the issue and then replies will be accepted till Sunday.
"We will make public our stand on Monday and convey it to Lt Governor our decision on the issue," he told reporters.
AAP, which was invited by Lt Governor Najeeb Jung to discuss government-formation last week, had set 18 conditions for Congress and BJP before it can decide on taking their support to form a government.
"We will distribute 25 lakh letters among people to know their views on taking support from Congress and BJP," said Kejriwal.
He said some of the leaders felt that AAP can form the government and do some two or three "good things" before it is toppled while some others were of the view that it should not take power at all.
At the same time, he wondered how AAP can take support from Congress as "it will definitely bring down the government after six months".
Jung has already recommended imposition of President's rule in Delhi among other options following the deadlock over formation of a new government as no party was ready to assume power.
Central rule with the Assembly being kept in suspended animation was one of the options listed by Jang in his report submitted to the President after having wide ranging consultations with BJP and AAP.
Kejriwal said though Congress has sent reply to AAP's letter mentioning about 18 conditions, the BJP did not even bother to respond to its communication.
"The BJP did not even bother to reply to our letter while the Congress in its letter said 16 points we mentioned can be implemented through executive decisions," Kejriwal said.
BJP (31) along with its ally Akali Dal got 32 seats in a House of 70 while AAP had got 28 seats.
In the open letter to the public, AAP gave them reasons why it was not ready to take the support of BJP or Congress, and asked people to decide on whether it should form government despite its reservations.
Attacking both Congress and BJP, Kejriwal said they are saying "we are shying away from responsibility" but "we want to make it clear that we are not running away. Common man had prepared the manifestos and... they can also run the government."
The AAP leader once again reiterated his party's stand that they would neither take nor give support to Congress or BJP to form the government.
Clarifying his party's decision to go to public on the issue of formation of government, Kejriwal said there were differences of opinion among the common people, "some suggested we should form the government and prove them wrong.
"Some were of the opinion that AAP should not take support at all, as the party had fought elections against them, and instead go for re-election. To reach to a logical conclusion it was important for us to know their opinion, and if they would vote in favour of government then we would definitely respect their decision, after all it's their party," he said.
Kejriwal said that people's responses to the AAP letter can be sent by short message service (SMS) or a call to their IVRS number or writing their opinion on the website or at the party's Facebook page.
Apart from it, all the party candidates and MLAs would organise public meetings in the 270 municipal wards of the 70 Assembly constituencies to know their opinion, Kejriwal said, adding whatever would be their reply "we would gather and take a decision".
According to party sources, there was difference of opinion among the party members also, while most of them were against the formation of the government with outside support from Congress, a small section wanted to form the government and give a befitting reply to both the parties with good governance.