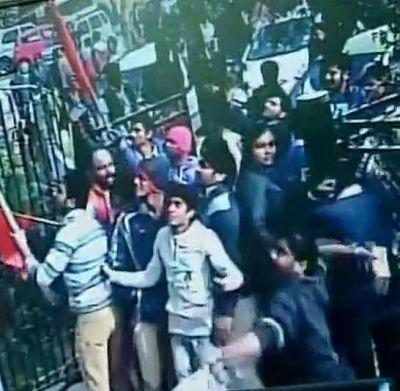 A group of people on Wednesday attacked the Aam Aadmi Party headquarters in Kaushambi in Ghaziabad with bricks and stones apparently to protest party leader Prashant Bhushan's remarks on Kashmir.
The group of 50-60 people, who are believed to be members of a right-wing group, attacked the office, party sources said.
Police said no one was injured in the attack.
Senior Superintendent of Police Dharmendra Singh said, "We have identified some people. There were some residents of Ghaziabad and the numbers of their cars have been noted. Action against them will be initiated soon."
He said there was no security at the party office but policemen have now been deployed there and at Delhi Chief Minister Arvind Kejriwal's residence which is just a kilometer away.
He said they will again take up the issue of security with Kejriwal and try to convince him about that. Earlier, Kejriwal had turned down the security offered to him by Ghaziabad and Delhi Police.
Bhushan had recently said a referendum should be carried out in Kashmir to decide on deployment of the army to deal with security threats in the Valley.
However, the Aam Aadmi Party had distanced itself from his views.
The Hindu Raksha Dal activists broke flower pots kept outside AAP's office and tore party posters. Some glass doors were also smashed in the attack.
"We today staged a protest against AAP's stand on Kashmir. AAP's leader Prashant Bhushan's remark on Kashmir is very sad for Hindus due to which we have staged protest outside party office," said Pinky Choudhary, national convenor, Hindu Raksha Dal.
"Some youths, who are said to belong to Hindu Raksha Dal, gathered outside the party office and raised slogans against AAP. They also broke flower pots placed outside party office," said Dilip Pandey, spokesperson, AAP.
Hindu Raksha Dal leader, 12 others arrested
Hours after the attack on Aam Aadmi Party's Kaushambi office, Ghaziabad Police arrested the national convenor of Hindu Raksha Dal and 12 others in connection with the incident.
Hindu Raksha Dal national convenor Pinki Choudhary was arrested from Sahibabad area in New Delhi and an FIR was lodged against him, along with 30-40 unknown persons, in connection with the attack.
"We have registered an FIR against Pinky Choudhary and around 30-40 unknown persons for the attack on AAP's office," Deputy Superintendent of Police Ran Vijay Singh said.
"A case under various sections of the Indian Penal Code has been registered," he said, adding that police have so far arrested 13 persons in this regard and more arrests would be made soon.
"Police are scanning footage of CCTV cameras installed in the party's office to identify other accused, who would also be arrested soon," the DSP said.
"We are against AAP's leader Prashant Bhusan's remarks on Kashmir. The attack was also instigated by Kejriwal's remarks on Batla encounter," Choudhary told reporters in New Delhi after his arrest.
'BJP-affiliated groups carried out the attack as they frustrated with AAP's rise'
Meanwhile, Prashant Bhushan blamed the BJP and RSS affiliated organisations for the attack on the party office, saying they were "extremely frustrated with the rise of AAP".
"This incident shows extreme frustration on the part of BJP, RSS and its affiliated organisations with the phenomenal rise of AAP. They are afraid of AAP and fear that it will damage their prospect in the Lok Sabha elections," he told reporters in New Delhi on Wednesday.
This incident, Bhushan said, proves that those parties are ready to use any means, "even going to the extent of vandalism and physically assaulting AAP leaders and supporters."
"This shows their fascist mentality and lumpen behaviour. It is unfortunate to see that a national party like BJP is now resorting to all kinds of violence and unleashing its goons," he added.
On AAP distancing itself from his views on Kashmir, he said, "There can be a difference of opinion within a party. I have already clarified and explained what I meant and there is not much difference in the party's statement. Neither I nor the party has said that Kashmir should be separated from India after conducting a referendum."
Talking about the attack on him in 2011, Bhushan said, he had lodged a complaint with Delhi Police but it "didn't take any action and allowed them to go scot free".
"Two years back, the same people had attacked me in my chamber opposite the Supreme Court. One of the assailants last time was also present this time. Another attacker runs a website and a BJP leader promotes this website," he charged.
Reacting to the incident, Congress leader Kamal Nath said, "I condemn all politics of violence."
Image: Video-grab of the CCTV footage of the attack

Courtesy: AAP's Facebook page