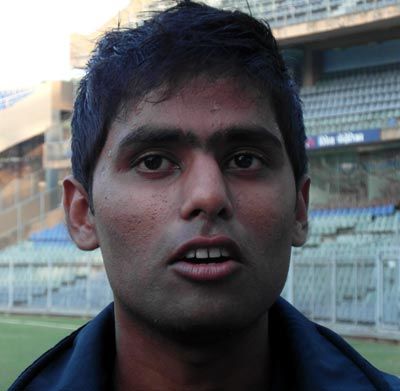 Surya Kumar Yadav scored his first century in two years, while Vinit Indulkar hit a half-century in his comeback match, to rally Mumbai after a shaky start against Maharashtra, in the Ranji Trophy quarter-final in Mumbai, on Wednesday.
Yadav played a sparkling innings of 120, which included 18 fours in 139 deliveries, while Indulkar's was a patient 82, as Mumbai finished the opening day on 306 for 7 in 84 overs.
For Maharashtra, pacers Samad Fallah (3-71) and Anupam Sanklecha (3-55) claimed three wickets each, but were unable to make most of a greenish wicket at the Wankhede stadium.
- Harbhajan rescues Punjab with a vital 92
Yadav and Indulkar put on 183 runs for the fifth wicket to lift Mumbai after they were struggling at 92 for 3 in the morning session.
Mumbai got their most experienced player Wasim Jaffer to open the innings, in place of Aditya Tare, who came in at No. 3. The veteran opener did well to negate the new ball early on in helpful conditions for the Maharashtra pacers.
Opener Kaustubh Pawar continued his poor run; he was caught behind off Fallah for for 19, while Tare struggled out in the middle, scoring three from 42 deliveries, before he chipped pacer Anupam Sanklecha to the fielder at mid-on as Mumbai slipped to 55 for two in 24th over.
Vinit Indulkar, who returned to the Mumbai team after a gap of six years, got off the mark with a single on the leg side. Incidentally, that was also Mumbai's first run after 39 deliveries as Maharashtra's bowlers kept them on a tight leash in the early overs.
But Mumbai were dealt a big blow on the stroke of lunch as Jaffer mistimed the pull shot off pace bowler Shrikant Mundhe to the fielder at mid-on.
The right-hander walked back for 44, from 98 balls, as Mumbai slipped to 92 for 3 at lunch on the opening day, with Indulkar unbeaten on 21.
Mumbai kept losing wickets, as Abhishek Nayar (5) was caught at first slip, giving Fallah his second wicket immediately after the lunch break.
Indulkar then set about repairing the innings in the company of Yadav. The two got a lifeline each, as Yadav (50) survived a stumping chance off left-arm spinner Darekar, while Indulkar (63) survived against pacer Chirag Khurana as Kedhar Jadhav put down a straightforward chance at first slip.
While Indulkar was content to bide his time, Yadav adopted a positive approach and kept the scoreboard ticking. He got to his century in the post-tea session, from 115 balls, steering pacer Srikanth Mundhe through gully for a boundary.
Maharashtra staged a late comeback in the post-tea session with a few quick wickets in the closing stages of the opening day.
Pacer Sanklecha checked Mumbai's progress in the final session with the wickets of Indulkar and Yadav.
Indulkar was caught by wicketkeeper Rohit Motwani for 82 and a few overs later Yadav was dismissed after a splendid innings of 120.
Shardul Thakur also didn't survive for long; he was caught in the slips off Fallah for four.
Mumbai adopted a positive approach in the post-tea session, scoring 130 runs in 24 overs, to take finish in a healthy position.
At stumps, Iqbal Abdullah was unbeaten on nine, with captain Zaheer Khan on five.
Scorecard
Mumbai (1st innings):
W Jaffer c Bawne b Mundhe 44
K Pawar c Motwani b Fallah 19
A Tare c Fallah b Sanklecha 03
V Indulkar c Motwani b Sanklecha 82
A Nayar c Jadhav b Fallah 05
S Yadav c Khurana b Sanklecha 120
I Abdulla batting 09
S Thakur c Khurana b Fallah 04
Z Khan batting 05
Extras: (b-4 lb-6 nb-3 w-2) 15
Total: (For 7 wkts in 84 overs) 306
Fall of wickets: 1-35, 2-55, 3-92, 4-101, 5-284, 6-295, 7-300
Bowling: Fallah 23-4-71-3, Sanklecha 18-4-55-3, Mundhe 22-5-70-1, Khadiwale 6-3-23-0, Darekar 12-0-54-0, Khurana 3-0-23-0.
Image: Surya Kumar Yadav
Photograph: Harish Kotian