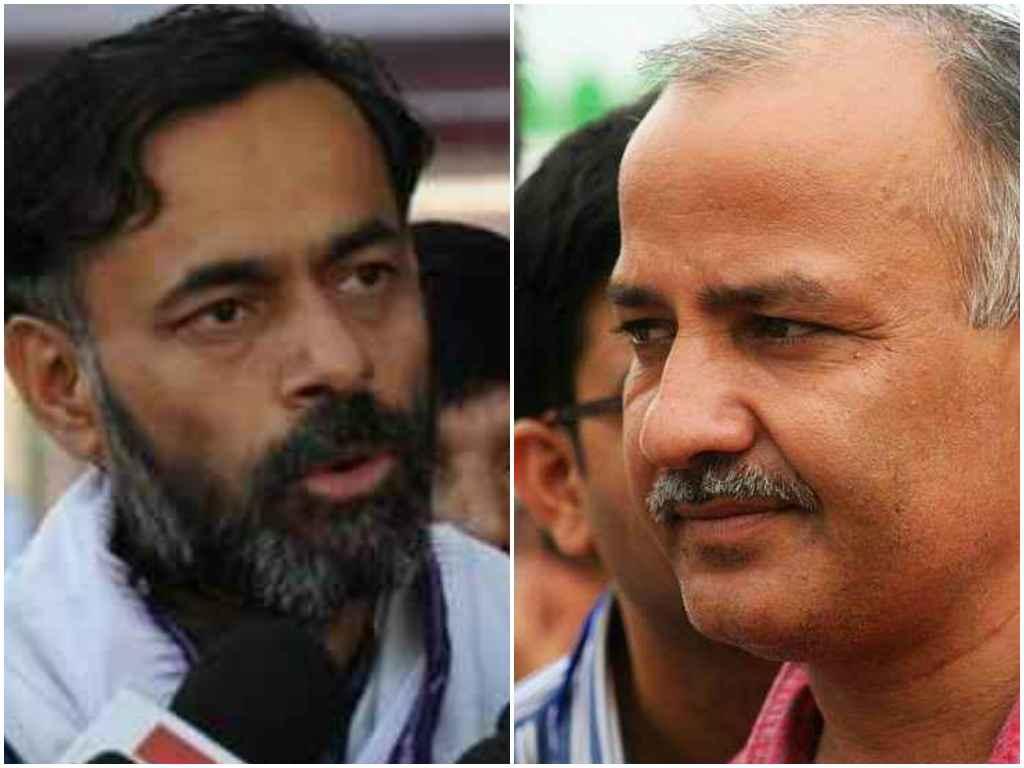 Differences in the top rung of Aam Aadmi Party have come to the fore with Manish Sisodia accusing Yogendra Yadav of targeting party chief Arvind Kejriwal and making internal matters public.
On Friday, Yogendra Yadav wrote a letter to the party's Political Affairs Committee in protest. "AAP seem to have forgotten that basic idea when it comes to decision making within our own party. Some of us have been raising this point in various party fora and trying in our own small ways to expand the scope for consultative decision making. Like many of you, I had hoped that we would get a chance for discussion and course correction after the Lok Sabha elections. But the course of events in the last fortnight, following the election verdict, took me aback. It seemed that instead of introspection and course correction, we had started moving in the opposite direction," Yadav wrote in the letter.
He also wrote, "To my mind, we had not lost the election, but we did start losing something more valuable, our sense of direction and rectitude, after the elections. Colleagues, supporters and well-wishers of the party were worried about these developments and wanted us to introspect. My resignation was above all an attempt to invite my colleagues in the national leadership of the party to face the election outcome and to begin collective introspection".
In a letter written in response to Yadav's email, Sisodia said, "Your (Yadav) broad allegations are Arvind (Kejriwal) does not listen to the suggestions of the Political Affairs Committee. I am surprised reading your email because till the time Arvind agreed with you, he was democratic."
Sisodia was referring to the recent row between Naveen Jaihind and Yadav after which Jaihind quit the National Executive and the latter the PAC membership.
Yadav and Jaihind had unsuccessfully contested from Gurgaon and Rohtak Lok Sabha seats in Haryana respectively. The former was the Haryana in-charge while the latter was the party's state convener.
The letter, which was written earlier this week, said that it was Kejriwal who backed Yadav's decision of contesting from Gurgaon despite other PAC leaders opposing the move, but the AAP chief managed to convince others.
"When you wanted to become Haryana in-charge and wanted to be projected as the CM candidate despite opposition from other PAC members, Arvind backed you. At that time he was democratic (for you).
"The state of affairs of the party in Haryana is in a shambles. Volunteers talk about your fight with Jaihind," he said.
Sisodia said, "You want strict action against Naveen (Jaihind) and when Arvind does not agree with you, then you call him of being a party supremo."
The former Delhi minister said Kejriwal, after resigning as the Delhi chief minister, was not in favour of contesting Lok Sabha polls across the country, but wanted to focus on Delhi.
But Yadav along with other PAC members were in favour of contesting the polls and "the results are before us", Sisodia said.
"After the fall of our government in Delhi, you conducted a survey in Haryana which said that party may get around 23 per cent of votes in the state, but under your leadership, it has managed to get only 3 per cent of votes. This requires introspection," Sisodia said.
A senior AAP leader said the letter was written after the party's rout in Haryana.
"We were not expecting this dismal performance in Haryana and in fact Punjab was a surprise. The recent squabbles between Jaihind and Yadav prompted Sisodia to write the letter," the AAP leader said.