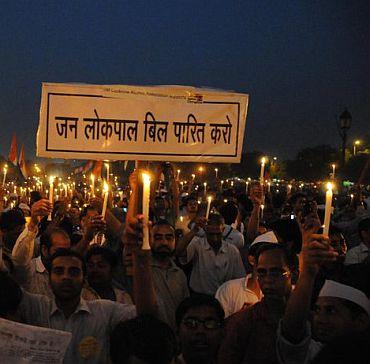 The Delhi cabinet on Friday decided to call a special session of the assembly to take up the Jan Lokpal Bill that seeks to punish corrupt officials on February 16 at the Indira Gandhi Indoor Stadium instead of the historic Ramlila ground as announced by ruling Aam Aadmi Party earlier.
Minister Manish Sisodia said a meeting of the cabinet has decided to call the assembly session from February 13 to 16 and the House will sit at the Indira Gandhi stadium on the last day of the session where the public will also be invited to attend.
The AAP government had earlier announced that it will convene a special session at Ramlila ground, the venue of Anna Hazare's anti-graft movement, to pass the much-talked about bill which was one of the main poll planks of the party.
Officials said the cabinet decision on convening the assembly session would have to be cleared by Lt Governor Najeeb Jung.
The Delhi police had opposed the government's proposal to convene the session at the Ramlila ground citing security issues.
Chief Minister Arvind Kejriwal said the cabinet discussed the draft of the Jan Lokapal Bill and a final decision on it would be taken on Monday. It has also been learnt that the government is mulling fixing six months as the time limit to complete investigation in corruption cases.
The draft bill, prepared by a committee headed by the chief secretary, has kept the chief minister's office under the ambit of the Lokayukta.
Soon after assuming office in December, Kejriwal had said his government would pass the Jan Lokpal Bill from the Ramlila ground by the first week of February.
A committee headed by the chief secretary and secretaries of urban development, law and finance departments, besides advocate Rahul Mehra was given the responsibility of drafting the bill.

Image: A demonstration demanding Jan Lokpal Bill in New Delhi