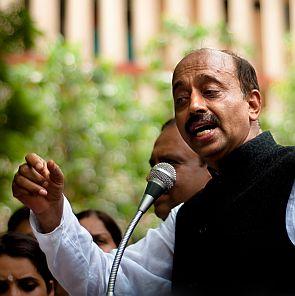 The Delhi unit of the Bharatiya Janata Party on Friday termed the Aam Aadmi Party government's move to register an FIR in the street light purchase scam during the 2010 Commonwealth Games as an "eyewash", saying that no Congress leader has been named in the complaint filed by the Anti-Corruption Bureau.
"BJP had handed over the evidence of involvement of Congress leaders in the CWG scams and has been consistently demanding registering of cases against former Chief Minister Sheila Dikshit and other ministers", Delhi BJP President Vijay Goel said.
"However, it is surprising that AAP government has not named even a single Congress leader in the FIR," he said.

"Had the AAP government really been serious about nailing the corrupt in the CWG scam, it would have named them in the FIRs. But it is clear now that (Arvind) Kejriwal is protecting the corrupt in Congress in lieu of the support it has got to run his government," added Goel.

Raising questions on the government's way of functioning, Goel said the government should come out openly and let the people know about its action plan to handle the power crisis in the national capital.

"There is no transparency in the way the government is handling the power crisis. There seems to be no backup plan with the government for handling the immediate power crisis. We are warning the Chief Minister that it should immediately come out with its action plan on power sector," said Goel.

"The crisis witnessed in the power sector is the result of lack of administrative seriousness in this government. It also appears that another political drama is being played out by AAP without caring for the problems faced by common people," Goel added.
Goel said the government should give answers on the power issues ranging from the government's plan to induct any other company to take over the power supply, in case licenses of present Discoms are cancelled to what rates a new power supply company will provide power to the consumers.

Accusing AAP ministers Somnath Bharti and Manish Sisodia of indulging in "corrupt" and "unethical" practises, Goel said BJP demands their resignations.
"The BJP will continue to hold protests and agitations till these two ministers are dismissed," said Goel.