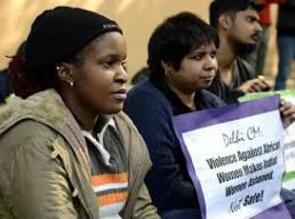 A Ugandan woman, arrested for allegedly pushing three women from her country into prostitution in New Delhi, was on Friday remanded to a day's police custody by a Delhi court.
Nabakula, alias Irene apprehended yesterday, was produced before Metropolitan Magistrate Chetna Singh who handed her to the Delhi police for custodial interrogation.
She has been booked under various section of the Indian Penal Code including extortion and immoral trafficking. Police have accused her of forcibly taking away the passports of three Ugandan women to force them into flesh trade.
While seeking three days remand, police told the court that her custodial interrogation is required to bust the syndicate involved in forcing African women and others into flesh trade. They also said more are to be arrested in the case at her instance.
The three women had on February 3 approached the Delhi government saying their passports and other important documents have been taken away by the "drug mafia".
They have also requested the government to help in the matter and arrange for their safe return to Uganda. Meanwhile, the police had registered a case against unknown persons.
These women in their complaints had said that they were brought to India with promise of jobs but were pushed into flesh trade. However, the Delhi government had sought the intervention of external affairs ministry in providing "protection" to three Ugandan women after they approached it alleging they were held hostages by the drug mafia in Malviya Nagar area of South Delhi.
Meanwhile, the statements of two women have been recorded in the case.
Image: Ugandan women protest against the Delhi government following the raid by Law Minister Somnath Bharti in Khirki extension