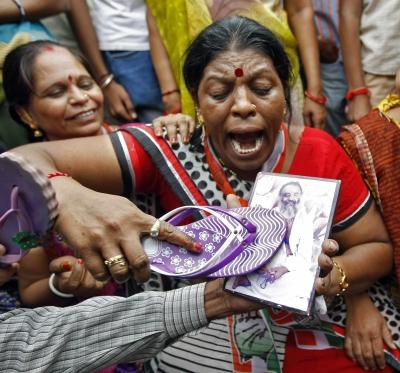 About 200 supporters of Asaram Bapu were detained on Monday by the police as they held protests over the allegations of sexual assault against the self-styled godman who has been lodged at the Central Jail on Jodhpur in connection with the probe into the case.
Asaram's supporters kept gathering at different spots in the city and finally went on a rampage outside the jail, police said.
"In the entire day, we have detained about 200 followers of Asaram from different places," said Deputy Commissioner of Police Ajay Pal Lamba. He said police teams had now been sent out to identify the places where the supporters were putting up in order to ask them to leave the city with immediate effect.
Hundreds of Asaram's followers assembled outside the jail on Mondau and sat on dharna chanting "Om" and shouting slogans for his release.
"We asked them to vacate the place, but as they refused to give in, we applied mild force to disperse them with a warning not to come back or assemble anywhere," Lamba added. He said that most of these supporters were outsiders who had managed to sneak into the city.
"We have deployed additional force outside the jail and have sealed all routes leading to it," the DCP said.
Monday was the third day when the supporters got into altercations with both mediapersons and police outside the jail.
On Saturday, they had attacked mediapersons outside Asaram's Jodhpur ashram, leading to police arresting 13 of them. On Sunday as well, while Asaram was being taken from the airport to a guesthouse in Jodhpur, his supporters created obstacles in the way, causing one police vehicle to overturn. One police official was injured in the incident.
Asaram is facing allegations of having sexually assaulted a minor girl at his ashram in Jodhpur.
Image: A protest against Asaram Bapu in Ahmedabad

Photograph: Reuters