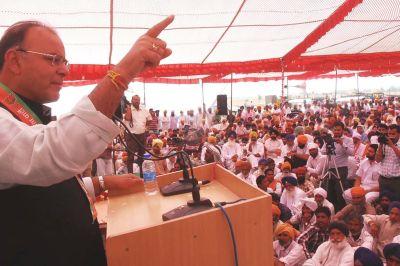 On Election 2014: 'So far it looks like a one horse race. The difference between the first and the second challenger is so large that if the first one looks back in the last round, he'll probably not see the second one anywhere.'
On the AAP prospects: 'They should be happy if they're able to open their account at this election.'
On Rahul Gandhi: 'He has a confused message. His campaign is in the abstract. And his campaign has nothing to offer.'
Senior BJP leader and the party's Lok Sabha candidate in Amritsar, Arun Jaitley, in a frank conversation with Rediff.com's Sheela Bhatt.
Also read: The woman leading Arun Jaitley's Amritsar battle
You were always known for your comments on national issues and today we are talking in Amritsar on your vision for Amritsar. How do you find this change?
There is no connection between the two. You see in India every politician has a connection to his state and identification with the state. So there is no contradiction between the two. You look at your constituency and live up to the aspirations of the constituency.
Here, let me be a little immodest. I am multilingual. I speak languages like English, Hindi, Punjabi, Dogri and a little bit of Gujarati... so I am able to identify with people of many states.
So when I am in Amritsar, my principal language is Punjabi. My accent is the proper Majha (a region of Punjab) accent of Amritsar because I learnt Punjabi from my parents and my grandmother.
And between Amritsar and Lahore the Punjabi-speaking accent was always the same. So I speak their language, I like their food, I look like them so...
Please share your prospects, in a frank manner...
You see the election is still some days away and nationally people want Narendra Modi and the Bharatiya Janata Party. Regionally they have certain issues with the state government (led by the Shiromani Akali Dal). People have shown extraordinary affection towards me when I meet them. People in this region, given a choice, would prefer me as their MP.
The talk in New Delhi amongst the media is that Arun Jaitley is in difficulty... What will you say to them?
I'm quite comfortable. But I'm not leaving anything to chance till the last vote is polled. But I'm quite certain that I'm winning. See the thing is that there is one section of the media that wants the BJP to lose.
All over the country they see no opportunity as such, hence they have their eyes here. Still, I'll give them the transient pleasure.
What is your take on the 2014 election?
So far, it looks like a one horse race. The difference between the first and the second challenger is so large that if the first one looks back in the last round, he'll probably not see the second one anywhere. And I think it is an election that has a fairly predictable result.
Everyone believes that you had a good start here. But as soon as former Punjab chief minister Captain Amarinder Singh came in, it has turned it into a big war.
It makes some difference optically. But at the grassroots it is not a very big difference.
Captain Amarinder has been the CM; he is a former maharaja and he's quite an aggressive person...
See he is a politician who indulges in Tu tu-main main. I don't call it aggressive. He is a man with no vision on any subject in politics.
He has written books on history, bird watching and he is an expert in gardening.
He is an expert in a lot of wrong subjects.
Which are the issues in Amritsar?
Amritsar is an aspirational constituency. There is a lot of buoyancy in this constituency. So first people want infrastructure. And they want a good city... They want tourism, to become the biggest urban hub. Also, people are eagerly waiting for border trade to open up in a big way.
We have roamed around in the city for two days. You are right that aspirational politics might work, that people might look up to you that you can fulfill the promises and their dreams for the city. But we were surprised to see that Narendra Modi is not as big a factor as we saw in Muzzafarnagar and Varanasi. How do you explain that?
I have been doing my surveys also. As a prime ministerial candidate, he is way ahead in the city.
Is the Modi factor working in Punjab?
You see in the politics of Punjab, the predominant party is the Akali Dal. They had their constituency on their kind of issues which is slightly different from the Modi-following constituency. His acceptability as the prime ministerial candidate is much higher than the other candidates competing for the post.
While interacting with Amritsari voters, they complain about the Akali Dal. How do you respond to that?
See, I'll tell you, a lot of good things have happened in this city. For instance, Amritsar was a very difficult city to enter once due to single lanes. Now on all sides of the city you have highways, elevated roads, flyovers. There was no sewage system, so it was laid all across. So the city is in transition.
Another two years and this city will change. It is going to have an elevated corridor for its bus service which will be the first one in the country like the Delhi metro.
There are some issues where the genesis of the problem is not the present state government. For instance, there is the property tax issue. It was Amarinder Singh in 2006 who signed the MoU (memorandum of understanding) with the Centre and the Akalis kept deferring it and it could not be removed.
I have an attachment to the city because it has a lot of my family roots. It is my mother's town, my parents' house is still there. So, I feel at home.
How do you see the prospects of the Aam Aadmi Party?
They should be happy if they are able to open their account at this election. I frankly don't see them winning too many seats.
How do you see the Modi campaign versus the Rahul Gandhi campaign, the two broad national strategies? Rahul's campaign is of a very sober person, not very aggressive.
He has a confused message. His campaign is in the abstract. And his campaign has nothing to offer.
The Congress says 'We wish to bring people together and join communities and not create a rift between them.' That is a clear message.
This election is being contested on the issues of governance. They have a very bad track record on governance.
What is the expected result in Uttar Pradesh?
Throughout UP there is one trend favouring us. And the best is in the east, I think, the National Democratic Alliance is getting a majority.
Will the BJP on its own cross 200 seats?
Looks like.
Image: Arun Jaitley campaigns in Amritsar. Photograph courtesy: arunjaitley.com
Must Read: Sheela Bhatt's fascinating columns on Election 2014