An interesting contest is on in Malkajgiri, the biggest Lok Sabha constituency in the country. Rediff.com's Vicky Nanjappa reports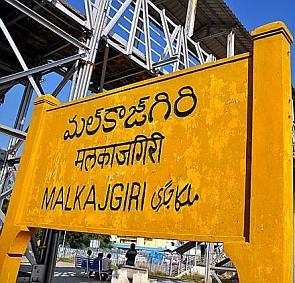 Malkajgiri, the biggest Lok Sabha constituency in the country, located in the heart of Telangana goes to polls on April 30.

The 29,53,915 registered voters here will for the last time vote in the unified state of Andhra Pradesh.

Besides, the fact that 40 per cent of the voters are from the Seema-Andhra region gives parties like the Telugu Desam Party and YSR Congress, which have been branded as anti-Telangana, a winning chance.

Congress leader Sarve Sathyanarayana is looking to win his third straight election from here riding on the development plank, but the competition is immense.

He is pitted against Aam Aadmi Party's N Sudha Kiran (grandson of former Prime Minister P V Narasimha Rao) TDP's Malla Reddy, YSR Congress's (Former AP DGP) Pradesh Dinesh Reddy, TRS leader M Hanumantha Rao (former MLA from Medak) and Jayaprakash Narayan of the Lok Satta Party.

A confident Sathyanarayana tells rediff.com, "The people want development and in all my previous terms, I have done my best. This time I propose to extend the metro rail services and also sort out the drinking water issues in the slums."
Also, the fact that he has never chanted the Telangana sentiment too much in the past makes Sathyanarayana a more acceptable face for the Seema-Andhra voters in this constituency.

The Congress leader is also relying very heavily on the fact that five of the seven assembly constituencies in this parliamentary segment are held by his party.

TRS candidate Hanumanth Rao, who is considered to be Sathyanarayana's toughest competitor, is speaking about a host of issues.

The Telangana sentiment works to an extent for him, especially when he is canvassing in the slum areas of the constituency.

These areas have a larger number of Telangana residents when compared to the rest of the areas.

However in these slum areas, they do not want just a state. Problems galore and many of them have accused the MP of focused more on the urban areas.

Rao says that he will give equal focus to the slum areas.

The TDP and the YSR Congress have spoken just about Seema-Andhra and its worries here.

Their candidates refuse to speak about the Telangana sentiment knowing fully well that it would have its effects in Seema-Andhra where they are in with a better chance.
Both the TDP and the YSR Congress are running their campaign on the issue of protection of the Seema-Andhra people's sentiment.

"We will protect their jobs, lands, property and also ensure them complete safety," says Dinesh Reddy of the YSR Congress party.
The TDP, which also echoes the YSR Congress mantra here, however, is facing its own share of problems.

There is a rift within the party over handing Malla Reddy -- considered to be a novice -- a ticket. Moreover, actor Pawan Kalyan has refused to campaign here for the TDP as he feels it would not be right to antagonize Jayaprakash Narayan of the Lok Satta Party.
The Lok Satta candidate, Jayaprakash Narayan who is popularly referred to as JP hopes that this constituency votes for a change.

"A good number of voters -- almost 85 per cent -- are young and educated. They want a new brand of politics and this is what I would capitalize on," says JP.

His slogan, 'enough is enough, no more lies', is a big hit with the younger crowd.
Complete Coverage: Lok Sabha Election 2014