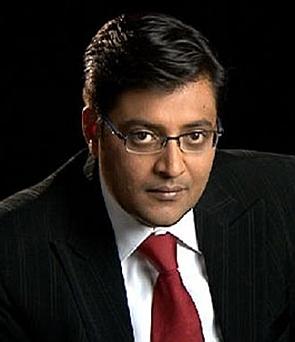 'It would not be right to compare the two interviews. In the case of Rahul Gandhi, it was more about where should I start since it was his first interview.'
'There is a lot of difference in the Modi of 2007 and the Modi of 2014. The focus has shifted from Gujarat and inner party issues.'
Times Now Editor-in-Chief Arnab Goswami talks to Vicky Nanjappa/Rediff.com about his interview with Modi and its inevitable comparison with his interview with Rahul Gandhi.

Also Read: 'I feel Rahul Gandhi has his heart in the right place'
How confident did Narendra Modi seem about getting the numbers to form a new government in New Delhi?

Narendra Modi was a picture of complete confidence. He told me he would reach the numbers on his own. He even made a comment that every MP will be of great significance to him. Narendra Modi was extremely assured of getting the numbers (needed to form the government).
How would you compare this interview to the one with Rahul Gandhi?
It would not be right to compare the two, as they are both completely different. The context was different. In the case of Rahul Gandhi, he had never given an interview before. His interview with Times Now was his first.

Narendra Modi, on the other hand, has given so many interviews in the past and this was his last during the 2014 campaign. For me, it was a professional challenge as both of them were very different.
In the case of Rahul Gandhi, it was more about where should I start since it was his first interview. With Modi it was about issues that I needed to question him on and also about the issues that need to be looked into. Hence, both the interviews and the subjects had to be dealt with differently.
You have interviewed Modi before. How different is the Modi of 2007 and 2014?

There is a lot of difference. Back then it was a question of Gujarat and how he will establish his position in the party. Today, he sees himself on the cusp of becoming the prime minister. The focus has shifted from Gujarat and inner party issues.
There were several questions on Pakistan. How do you analyse Modi's stand on this issue?
On Pakistan, Narendra Modi was extremely clear. He has made an on-record statement that there shall be no talks if terror continues. In the past, there was talk that he was taking a middle path and could have been softening his stand. However, in his interview with Times Now, he was extremely clear about his stand.
As I said, it was an on-record statement and this according to me will be a significant departure from the UPA's (United Progressive Alliance) stand on Pakistan.

Images: Times Now Editor-in-Chief Arnab Goswami.