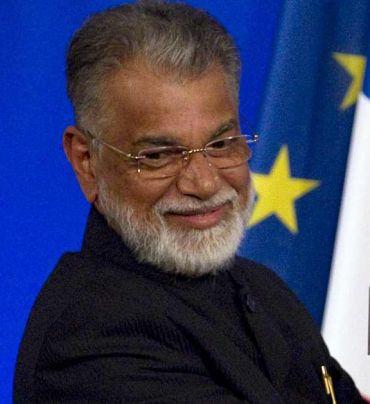 November 5 is a big day for the Indian Research Space Organisation and its chief, K Radhakrishnan. Stationed at Sriharikota from where India's first mission to Mars will take off at 2.38 pm, Radhakrishnan is the captain of the team of 1000 scientists who have worked tirelessly on the ambitious Rs 450 crore mission.
This is probably one of the biggest projects under his leadership after he took over from his predecessor, Madhavan Nair.

Radhakrishnan spoke with rediff.com's Vicky Nanjappa briefly about the mission and what he feels about the entire project.

On how confident he is about the Mars mission launch…
"It is a big day for all of us and all the hardwork required has gone into this. I am optimistic about this mission and confident that it would be a success. However, when it comes to space missions there is a very thin line between success and failure. One should not worry too much about success or failure as I pointed out that the line is extremely thin. The idea is to do the job well, as that is what counts.

On chances of mission failure…

"Failure is something that we need to also handle but more importantly we need to learn from it in order to succeed in the future. This, no doubt, is a difficult mission and also a very complex one."

"The success rate of Mars missions is not that high. There have been 51 missions so far and only 21 were successful. We have done our best to ensure that the mission is a success. I am not nervous as we believe we have done our best."

"Overall it would be another milestone for the entire nation after the Chandrayaan. The way we also look at this mission is that it would be a success if the orbiter gets to Mars."

On what the mission aims to do...
"We need to prove our capabilities in rocket technology and the intention is to collect details about the presence of methane in the Mars atmosphere. If we detect gas it would determine whether it has emerged from geological or biological activity."

On the road ahead after the Mars launch...
"At ISRO, we work as a team and ensure that there is no nervousness around such missions. It is going to be a long mission as the spacecraft is expected to reach Mars on September 24 2014. There is a lot more to be done after the launch and we need to keep our cool and ensure that all of us work extremely hard to ensure that this mission is a success."
"When compared to Chandrayaan the Mangalyaan mission is tougher and far more complex. The distance to be travelled in the Mars mission is much more when compared to Chandrayaan (55 million kilometres) and as I pointed out earlier the success rate of such missions has not been very high when other nations attempted it and hence this makes it even more complex."